Our Demonic Libation Must Stop – It's Full Of Ungodly Rituals -Let's Appoint A State Linguist For Libation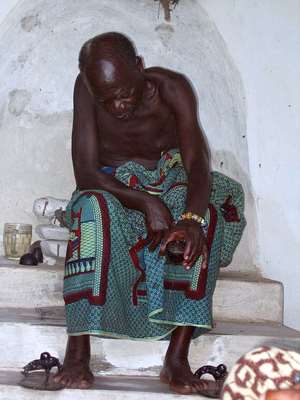 In his philosophical book titled 'Consciencism' Osagyefo Dr Kwame Nkrumah outlines the three religious cultures accepted and practised by Africans. These are the African Traditional Region (ATR), Christianity and Islam.
It is to be noted that I strongly oppose the present tenets and worship methodology of ATR because they are deviational and not as original or genuine as Ghanaians practised it at first in the Koa Valley of Southern Israel around BC 3,500, but they are now mixed up with idolatrous traits copied from the heathen religion of nearby Canaan; for example, the invocation of gods and ancestral spirits to do something good or bad to a community and individuals, and the pouring of drinks right unto the ground.
However, be that as it may in the case of ATR, the fact remains that the three religious cultures upheld by Dr Kwame Nkrumah were immediately exhibited in the first Independence anniversary celebrations parade of 1958 and the subsequent ones, all as medium of expression of Ghana's thanks to God for the political freedom achieved and as an instrument of invoking God's blessings and protection on our nation. In regard to ATR whose prayer medium is through the pouring of libation, Dr Kwame Nkrumah, intending to avoid its spiritually dangerous excess of invocation of gods and ancestral spirits which are idolatrous, employed and briefed a State Linguist in the person of Okyeame Akufo, who poured libation with utmost zeal and exceptional oratory, praising God and praying to Him. No Ga Wulomo was asked to pour libation, for Nkrumah wanted most Ghanaians to hear and appreciate the prayers done in the Akan language. It was Rawlings who vandalized Nkrumah's libation arrangement and replaced it with Ga Wulomo deal, which many libation experts and ancient historians consider as inappropriate because, as they probably displeasingly argue, God 'doesn't drink from bottles, but from glasses'. But the controversy now rages on the complete deletion of libation from our state functions at present, such as Independence anniversaries, which act some people consider as uncultural.
The question is - is the pouring of libation at state functions the be-all and end-all of our Ghanaians traditions? It is very much unfortunate that some Ghanaians have such ridiculously parochial view of culture or tradition as to think that libation pouring is the only thing that forms the quintessential reflection of our culture, to the exclusion of all other strands of our traditions. This view, so puerile, so simplistic and so naïve is often passed down to the simple-minded younger generation who sheepishly swallow it hook, line and sinker! God damn it!
Don't we go to state functions with our rich kente cloths, smock, bubu, 'three-piece African dresses'? What is more Ghanaian like the adowa, agbadza, bobobor, agbele, bambari etc dance which we perform at state functions? What about the dondo, fontomfrom and kolomashie drumming? Don't they richly depict our Ghanaian culture at state functions more than the momentary libation-pouring invocation of gods, ancestral spirits and other evil spirits?
After all, if we invoke ancient history into the whole argument, we would come to the unmistakable conclusion that libation to the gods and ancestral spirits  is  not our really primordial prayer culture.  It is itself a foreign culture, a prayer tradition which we Ghanaians borrowed and swallowed from the fetish, idolatrous next door Canaan, when in the third century BC, we were still living in the Koa valley of Israel.  It is a pity that those who talk about  sankofa  (go back to historical roots) concept still live on merely cosmetic research findings that don't go beyond the geographical boundaries of Western Sudan.
Yet, nowadays, better thorough-going research work by Egyptologists and Isogogical theologians has come to re-define our true identity as people from the Koa valley of Israel whose original prayer tradition derived from our ancient  Mulumkulunku  ( Animist and Moat Rosicrucian) religions which were founded by Africans in Africa's Egypt and Sudan of the fourth and third centuries BC ( Before Christ).  There was no libation pouring in either of these religions. The prayer methods were silent meditation and direct verbal addresses to the  spirit force  in the case of Animism; and to  Supreme God  in the case of Rosicrucianism. Ancient historical records of the pre-Neolithic and Bronze Age Egyptian cultures of the Badarian, Amratian, Gerzean etc. regions prove these.
There is indeed some conviction that Animist transcendental meditation gave vent to the Yoga meditation in India. Ancient Koanas' (or Gwanas') or Ghanaians' frequent contact with Africa's Egypt kept alive the primodial Animist faith whose meditation prayer system was meant to interact with  forces of nature , especially trees, animals, rivers and rocks. This meditation was often followed by obtaining a token of the tree, animal, water, rock etc. and making it into a protective talisman. If today, you go to a village and see a little stone or pebble, a cowrie, (serewa) a tooth of an animal, a chip of a tree bark, a very little bottle containing river water etc. hung around the neck or waist of a little child as a protective power or healer, that should remind you of our ancient Animist religion in which there was absolutely no libation pouring!
But how did we come by this libation pouring prayer method? Well, by 1350 BC when the African King, Amehotep IV of Egypt (also known as Akhnaton) had founded the great Brotherhood (or Rosicrucian faith) which espoused the belief in one God, the idolatrous Canaanite religion of the Eastern Palestine had already invaded Egypt with its libation pouring to the gods and ancestral spirits.
The Koa (or Ghana) people of Israel who from about BC 1360 downward had learnt (and added to their Animist religion) the prayer system of pouring libation to God only, became contaminated with the Canaanite idolatrous way of praying. Thus while Koanas (Ghanaians) in the South of Israel did Animist meditation and by Mosaic edict poured libation to God only, they later added the practice of pouring libation to the gods and ancestral spirits. And that led to our doom - our defeat and eviction from Koa valley! Why? - Because as practitioners of the divine Mosaic laws in which idolatry is prohibited, we had acted to offend God!
Against God's own command to Moses to ' pour libation' to Him only on the altar (Exodus 25:29) we had poured libation to the Egyptian earth goddess known as Osiris with her bedfellow, Issis ( a god). In fact, there is much reason to believe that the Akan word 'Asaase' (earth) in the libation statement: 'Asaase Yaa begye nsa nom' (Thursday-born earth-goddess, come for drinks) is a reference to the Egyptian goddess or god Osiris and Issis. 'Asaase' could be a corruption of 'Osiris or Issis' from which we possibly have the Akan word 'ase' (down) and the Ga word 'shishi' (down).
The point being contested here is that libation pouring to the gods and ancestral spirits is not our historical tradition and we must stop it! If we would want to abide by our Sankofa (return to our historic roots) idea, then the best option is to pour libation to God only at state functions. That indeed could be the truest reflection of our ancient libation pouring culture. In his book entitled 'Libation', Bishop Akwasi Sarpong argues that 'libation as a whole cannot be rejected wholesale. If some object to parts of it, the simplest thing is to leave those parts out. Let us leave the mention of deities (the gods etc.) and the curses at the end'.
If we leave the mention of deities and the ancestral spirits, the alternative left is the pouring of libation to God only. And this will be in response to the ancient 'one-God' Rosicrucian teaching and the 'one-God' Mosaic law, as expressed in Hebrew:  'Schema Israel, Adonai Elhoejno ekat'  ('Hear O Israel the Lord our God is our God alone', Deuteronomy 6:4, Mark 12:29). This indeed is acceptable. In this case, the state protocol of the government will be required to erect a table 'altar' (Moses' fashion) and place a receptacle on it into which libation can be poured to God, as ordered by God Himself in Exodus 25:29.
As a matter of fact, this is exactly what President Atta Mills' government probably geared itself towards - the elimination of idolatry from state functions because of its serious religio-spiritual repercussions on the nation. It is my submission that the government should appoint a state linguist of the oratorical calibre of Okyeame Akuffo of Osagyefo Dr. Kwame Nkrumah's time. And he will be the person to pour libation to God only on an altar, just to reflect our ancient past culture. At least this should be the compromise solution to the problem.
By Apostle Kwamena Ahinful