Hospital 'targeted' in Sudan government air raid: MSF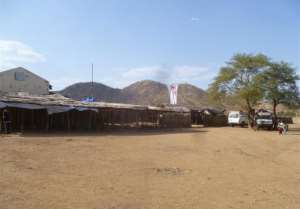 A picture released by Medecins Sans Frontieres shows its hospital in Farandalla, in Sudan's South Kordofan region, on November 11, 2011. By (Medecins Sans Frontieres/AFP/File)
Khartoum (AFP) - A Sudanese warplane deliberately targeted one of the few hospitals operating in South Kordofan state, where ethnic minority rebels have been fighting government troops, an international medical charity charged Friday.
Two people were wounded in the Tuesday raid in Frandala in the Nuba Mountains, where rebels of the Sudan People's Liberation Movement - North (SPLM-N) have been fighting since 2011, Medecins Sans Frontieres (Doctors Without Borders) said.
"We condemn in the strongest terms the bombing of the Frandala hospital," Marc Van der Mullen, MSF head of mission in Sudan, said in a statement.
"With more than 100 patients present, we were very lucky not to have more casualties, because people simply had no time to seek protection.
"There can be no doubt that this was a deliberate and targeted bombing on a civilian hospital structure and part of a strategy to terrorise the community," he added.
There was no immediate reaction from the Sudanese military to the MSF report.
MSF said a patient and a hospital worker were wounded and the hospital damaged, as a fighter jet dropped 13 bombs, of which two landed inside the compound and the rest just outside the hospital fence.
The Frandala hospital was previously bombed in June 2014.
Fighting erupted in South Kordofan in 2011 when rebels formerly allied with now independent South Sudan took up arms against the Arab-dominated Khartoum government.