How BBC Nailed General Mosquito Over Female Winter Coat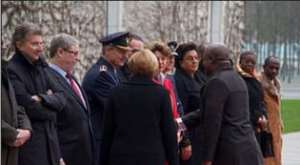 A senior official in Ghana's ruling party has laughed off criticism for wearing his wife's coat during an official visit to Germany, it's reported.
Johnson Asiedu Nketia, general secretary of the National Democratic Congress, was snapped wearing a camel-coloured, fur-trimmed number on the trip, and was promptly ridiculed by fellow politicians and social media users, the Graphic website reports.
Mr Nketia says nobody in Germany mentioned his choice of attire, but it was a different story back home in Ghana, where one opposition politician seized on the fashion choice as evidence of a "totally confused" administration.
Mr Nketia has met the mockery with good humour, and says he isn't bothered by the fuss. "When we embark on a state visit... we are going to use our brains to help the country, not to showcase our attire at fashion show," he said in a radio interview, adding that he didn't see the point in buying a new coat for such a fleeting visit.
And it seems there is an upside to being ridiculed for your fashion choices. In an interview published on the Ghana Vibes website Mr Nketia says: "I can hit my chest and say that I'm the only political party executive to chart a new fashion trend."