Hacking of Gov. of Ghana websites: Turkish hacker claims responsibility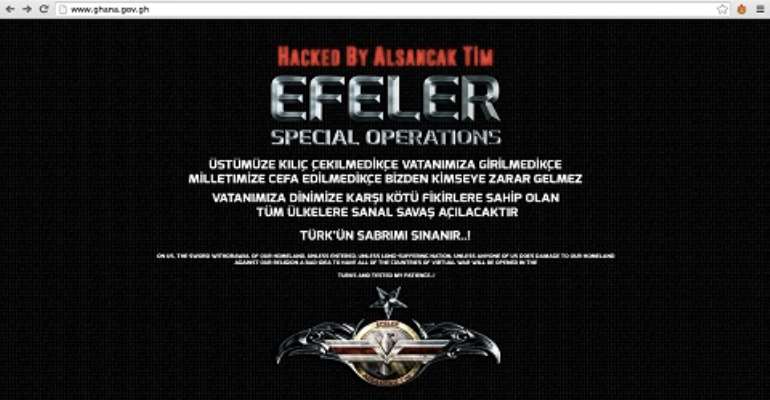 A Turkish hacker, AlsancakTim. (with a Facebook  account by the same name), has claimed responsibility for the hacking of the Government of Ghana homepage. Several Government of Ghana websites have been taken down following the attack.
The affected sites, including the Government of Ghana homepage initially displayed a message from the hacker and a link to a facebook page where several other non-Ghanaian websites, which had been attacked in the strike had been listed.
In a Facebook conversation with the hacker, JoyNews Editor, Israel Laryea has been able to extract what appears to be a confirmation that indeed there was a motive for the hacking of these websites.
When pressed to give reasons for the attack, the hacker replied:
"Ghana's intense missionary activity results in a reduction of the Muslim population…We stand by our Muslim brothers. We are at war with state oppression and exploitation"
It is not exactly clear what the hacker meant  by "intense missionary activity", resulting in a "reduction of the Muslim population"
Such attacks are often used by hackers to draw attention to a cause or principle they believe in or support and may not be so much about the targeted site. But the more sophisticated a website's security is, the more difficult it is for hackers to attack, except there are hackers who get a thrill from taking down sites that are supposedly impregnable.
Meanwhile, following the hacking of the government of Ghana website on Wednesday, the national information technology agency, NITA said it has put in place security systems to address the vulnerabilities that exposed the website to hacking.
When JoyNews contacted the authority for further details of the exact measures in place to safeguard against hacking, no information was given on grounds that the issue is a sensitive national security matter.
Although indeed the affected websites are up and running at the moment, experts say, there are still several vulnerabilities because most government of Ghana portals, including websites of key state institutions, have weak systems.
Speaking on Today's Big Story, on JoyNews, a Certified Ethical Hacker, who was in our studio, demonstrated through simple applications, how vulnerable these key websites are.
We will be uploading the demonstration video shortly