Fresh violence in DR Congo as Senate votes on election law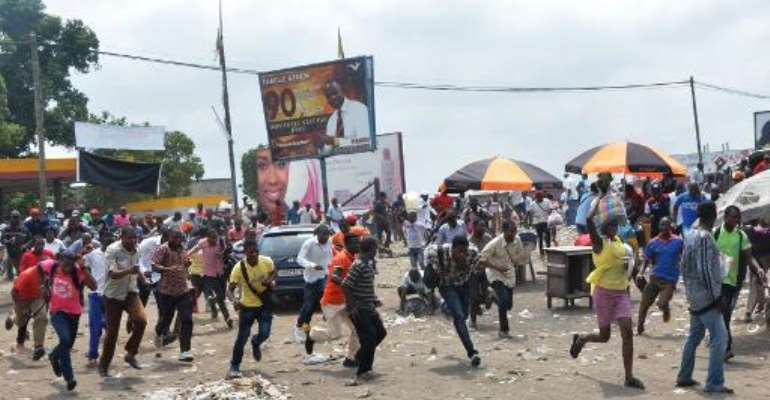 Kinshasa (AFP) - Riot police opened fire on protesters in the Democratic Republic of Congo Thursday in a new bout of violence as the Senate was set to vote on a controversial bill that would extend President Joseph Kabila's rule.
An international rights group said 42 people had been killed in three days of anti-Kabila demonstrations in Kinshasa, but the government angrily challenged the figures and said 12 people had died.
Thursday's violence erupted in the eastern city of Goma -- about 1,500 kilometres (900 miles) from the capital -- when riot police fired on groups of several hundred demonstrators, an AFP correspondent said.
Protesters are rising up against legislation that would enable Kabila, who has been in power in the troubled country for 14 years, to extend his term beyond 2016 when his second mandate ends.
The International Federation of Human Rights (FIDH) said 42 people had been killed and dozens wounded in the protests in Kinshasa, a teeming tropical city of nine million people.
"As has unfortunately become a frequent occurrence in the DRC, the security forces have again demonstrated a totally excessive and disproportionate reaction by firing live ammunition on protesters," it said in a statement.
"The authorities must put an immediate end to the repression, identify the perpetrators of the crimes and bring them to justice."
But government spokesman Lambert Mende said 12 people including a police officer had been killed, and accused FIDH of being "manipulated" by an exiled Congolese group.
He described most of the dead as "looters" who had been killed by private security guards. Mende had said on Wednesday that about 340 "looters" had been arrested.
- 'Kabila out' -
On Wednesday, the popular leader of the Catholic Church weighed into the turmoil, giving his backing to protesters.
"We denounce these actions which have caused death and we are launching this plea: stop killing your people," Archbishop Laurent Monswengo said.
He called on the people of the giant central African country to use "all legal and peaceful" means to oppose the law change.
On Wednesday, dozens of students at Kinshasa university shouted "Kabila get out!" as police tried to block the demonstration
The United States joined the European Union in voicing concern over the rising violence, calling for restraint and backing elections in line "with the constitution."
"The United States is troubled by reports of widespread violent demonstrations, looting, unlawful arrests, and violence against protesters," State Department spokeswoman Jen Psaki said.
She also said Washington was "alarmed by reports that Internet sites, text messaging services, and radio stations have been shut down."
The European Union called for all sides to "seek a consensus allowing a return to calm," and said the electoral calendar should be respected.
- War and misrule -
Kabila's opponents believe he wants to prolong his mandate by making presidential and parliamentary elections contingent on a new electoral roll, after a census across the vast country set to begin this year.
The government has acknowledged that the census could delay elections due at the end of 2016, but regional analysts and diplomats have estimated the process could take up to three years.
Speaking from Belgium on Tuesday, DR Congo opposition leader Etienne Tshisekedi called on the Congolese people to force a "dying regime" from power.
Tshisekedi, 82, who is in Europe recovering from illness, has been in opposition since the 1960s, previously taking on the dictator Mobutu Sese Seko as well as Kabila's father Laurent Kabila.
The unrest is the latest upheaval to rock the mineral-rich country which has been plagued by wars and weakened by decades of misrule.
Kabila, now 43, came to power in January 2001 when politicians rushed to make the young soldier head of state after the assassination of his father.
He was returned to office in 2006 and began his second five-year constitutional term after a hotly disputed vote in 2011.
Many African presidents have tried, and often succeeded, to stay in power by rewriting their countries' constitutions to get rid of limits on presidential terms.
Last year, Burkina Faso's president Blaise Compaore was chased from power when he tried to change the constitution to extend his mandate.