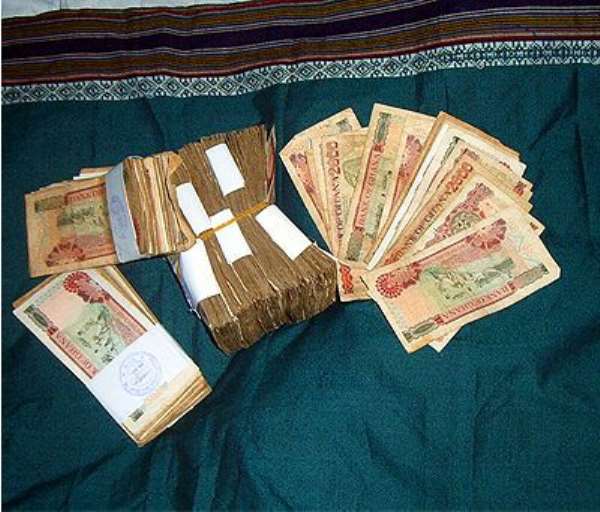 Some executive members of the New Patriotic Party (NPP) have demanded bribe from two aspiring MPs for the Odododiodio Constituency, Mr Nii Laryea Squire and Dr Hammond, to twist the party's constitution and allow them to contest the primaries even though they do not qualify, according to the party's constitution.
A "huge amount of money has been collected from the aspirants by these executive members" though they know the aspirants are not qualified to contest the party's primaries, the Youth Secretary of NPP in Odododiodio Constituency, Mr Adjaidoo Amarteifio alleged at a public forum the youth of the area organised in Accra.
He alleged that Mr Nii Ayitey Boafo, the Presidential Aide and Greater Accra Regional Secretary of the NPP has written letters to members of the vetting committee to qualify Dr Hammond while Mr Creech Jones, the Constituency Chairman has been appealing to the national executive body to qualify Dr Hammond.
He said Mr Squire "is not a member of the NPP but a plant from the NDC" and started attending the party's meetings from April this year when he wanted to contest the primaries. He said the aspirant "had his identity card of the party done fraudulently and backdated" so he does not qualify to contest the primaries.
He said both national and constituency executives know the two aspirants do not qualify to contest but because of the huge amount of money allocated to them by the aspirants, they want to twist the constitution of the party and make them qualify.
The Youth Secretary said the incumbent MP, Mr Reginald Nii Bi Ayi-Bonte, had been impressive for the three years he had been in office.
"Both members of the NPP and the NDC in the constituency would wish to have Mr Nii Bi Ayi-Bonte as their MP elect for December 2004".
He said Mr Ayi-Bonte was the "first among all MPs to establish an education Trust Fund with the name Ga Mashie Education Trust Fund at the Ghana Commercial Bank, apart from other major accomplishments like annually organising classes for Basic Education Certificate Examination (B.E.C.E.) candidates.
Mr Amarteifio said Mr Ayi-Bonte's achievements made him the most outstanding person to carry the flag of NPP for the Odododiodioo Constituency to the parliament. He assured all that Mr Reginald Nii Ayi-Bonte "would forever retain the Odododiodio Constituency seat and make it a safe seat for the NPP.
He also called on the party executives to send national security personnel to investigate these allegations.