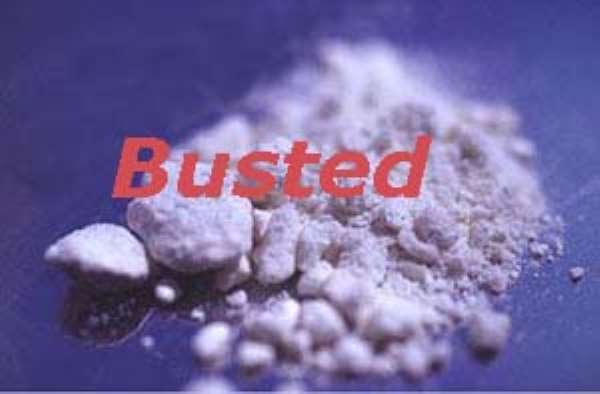 Accra, July 20, GNA- Police Detective Sergeant (DS) Stephen Owusu, an investigator on Tuesday told a High Court in Accra that Kevin Gorman, one of the six persons in the 588.33 kilograms of cocaine case accepted responsibility of the consignment found in house at Tema.
Sgt Owusu however stated that Gorman in his charged statement denied knowing the content of the consignment.
He said Gorman stated that it was until the police had arrested him that he learnt about the contents of the consignment.
Sgt Owusu who was continuing his evidence before the court also stated that Gorman further denied the conspiracy charge levelled against him. The accused persons are Kevin Gorman, 59, an American, Mohammed Ibrahim Kamil, Ghanaian, Alan Hodson 45, David Logan 43, Frank Lavelrick 43, all British and Sven Herb, 45, a German have been charged with conspiracy and possessing narcotic drugs without lawful authority. Gorman, Hodson and Lavelrick were additionally charged for importing narcotic drugs without license.
Gorman was further charged for using his property for narcotic offence.
They have all pleaded not guilty.
Sgt Owusu, who is the investigator in the case told the court that on January 27, this year, he took from all the accused persons, cautioned and charged statements in the presence of the respective counsel.
He said the accused persons wrote their statements tendered to the court and he appended his signature to them.
Sgt Owusu said during his investigations he retrieved some items including various monies from accused persons.
He said he retrieved from Gorman, two United States passports, one Ghanaian Drivers License, 107 US dollars, 30 Euro, 10 Swiss Franc 40 Thai Dollar and two million cedis.
The rest were Venezuelan notes, one Nokia mobile phone, short and single barrel guns and other documents.
At Kamil's house, the investigator said he found two mobile phones, 17,000 US dollars and 155,000 cedis.
He said at Hodson's house he found two British passports and 350 pound Sterling while Logan had on him two British passports, two air tickets, 1,735 US dollars, 6,180 Euro, and 360 pounds.
At Lavelrick's house the Investigator said he retrieved a British passport, 2,675 Euro and 475 pounds sterling while Herb had on him two Nokia Phones, 500 Euro, a revolver, 770,000 cedis and his private car. When Mr Anthony Gyambiby, Chief State Attorney, prosecuting, demanded the title deeds of Gorman's House from Sgt. Owusu, he said it was in his office.
Prosecution therefore prayed the court to adjourn the case to enable the investigator to produce the title deeds on Wednesday. The court obliged and adjourned to July 21.