Rawlings to attend elder statesmen meeeting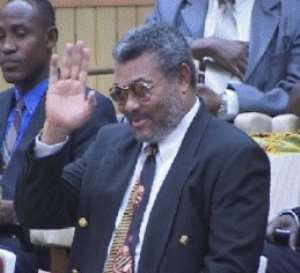 ....Two dozen elder statesmen to meet in Salzburg Salzburg, July 19 -- Jerry John Rawlings and about two dozen former presidents and prime ministers will meet under the auspices of the Inter Action Council (IAC) in Salzburg beginning on Wednesday to discuss the path towards world peace. Among them will be the conference co-chairmen, former Australian and Japanese Prime Ministers Malcolm Fraser and Kiichi Miyazawa, chairman of the IAC, former German chancellor Helmut Schmidt, and former German president Richard von Weizsaecker. The session is slated to end on Friday. Also on the list of participants are former prime ministers Giuliano D'Amato (Italy), Gyula Horn (Hungary), Ingwar Carlsson (Sweden), Hanna Suchocka (Poland) und Evgeni Primakov (Russia). Nobel Peace Laureate Oscar Arias (Costa Rica) und ex-president Jerry John Rawlings (Ghana) are also expected to attend, as well as Austrian ex-chancellor Franz Vranitzky and former president Kurt Waldheim.
The council of former statesmen sees its main task as upholding and defending universal values. In cooperation with illustrious scientists, the IAC has over the years formulated keynote documents, particularly on the transition from planned to market economies after the collapse of communism in Europe.