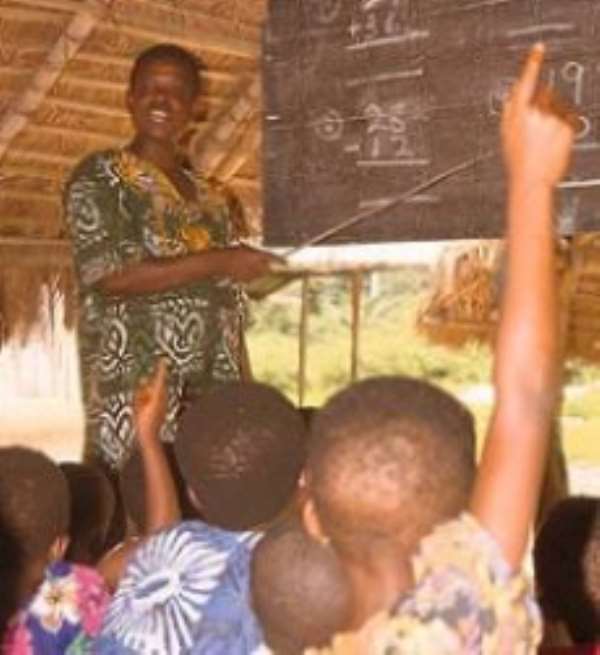 Ajumako (C/R), July 19, GNA - There has been a shortfall of 147 teachers in the Ajumako-Enyan-Essiam District since September 2003. Mr Peter W. Droefenu, District Director of Education said only 20 pupil teachers made up of 14 general subject teachers and six technical teachers had been recruit this year.
He said 30 trained teachers sponsored by the District Assembly would pass out in September to compliment those currently at post. Mr Droefenu explained that the District was one of the most deprived in the country and lacked infrastructure and amenities and said an office complex and a bungalow valued at 300 million cedis would be completed for the Ghana Education Service (GES) by December this year. Madam Christina Mattey, Director in-charge of Girl-child Education in the District said "girls education week celebrations" introduced some few years ago was yielding positive results, adding that, the district now had 822 girls in Senior Secondary Schools compared to 172 before the introduction of the programme.
She called on parents, teachers and other stakeholders to support the programme to produce more qualified females for the nation. The weeklong celebration, which began with clean-up exercise included debates, essay writing and reading.
Speaking on the theme, "Enrolment, Retention and Achievement," Madam Mattey advised parents to send their wards to school at the right age and to support, maintain and control them until they achieved good results.
"The situation where pupils start primary one between the ages of nine and 10 makes it difficult for such pupils to go through and sometimes fall by the way side," she said.
Mr Jos K. Appiah, Officer in-charge of Science, Technology, Mathematics Education (STME), advised parents to ensure that their wards studied at home and to discourage them from attending videos, concerts, funerals, wake-keepings and other social functions especially in the night.