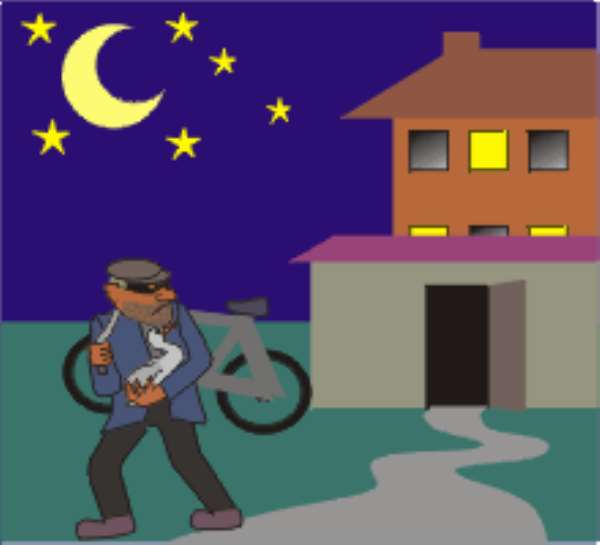 Tema, July 17, GNA- A 20-year-old motor mechanic who broke into a VW Jetta car and stole 10,000 pounds sterling and 6,500 dollars has been jailed eight years by the Tema circuit court 'B'. Wisdom Konla Odonu pleaded guilty.
Seth Mensah Dowedo, a 22-year-old electrician who pleaded not guilty for dishonestly receiving 150 dollars from Wisdom was made to refund the amount and fined 200,000 cedis or six months imprisonment. Chief Inspector Alice Gyamfi told the court that in the night of May 21, 2004, Mr Tony Amuzu, a staff of the Ghana Airways parked his VW car in front of his house at Tema.
She said at about 0400 hours on May 22, the complainant woke up and found that the glass of the right back door had been smashed and the car ransacked.
Chief Inspector Gyamfi said the complainant found that a cash of 10,000 pounds and 6,500 dollars, which were in envelops and had been kept under the driver's seat were found stolen.
He made a report to police and on May 24, at about 0730 hours, Wisdom was arrested upon a tip-off.
Chief Inspector Gyamfi said on interrogation, Wisdom admitted the offence and mentioned one Kojo, now at large, as his accomplice. Accused said he used part of the money to buy foam mattress, a cylinder and a gas cooker.
He led the police to his house where 7,535 pounds sterling, 3,000 dollars, and 2.8 million cedis as well as the items purchased were retrieved.
Chief Inspector Gyamfi said on May 25, Mensah Dowedo was also arrested for dishonestly receiving 150 dollars from Wisdom and when he was searched, 1.2 million cedis was retrieved.