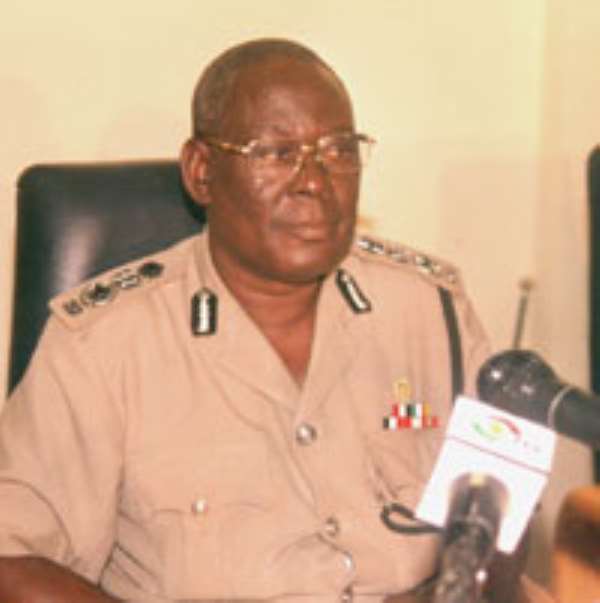 A labourer at the Police Headquarters has been found guilty by an Accra Circuit Court for unlawfully entering into the IGP's office and as well, stealing from the same office.
The accused, Odoi-Goh Israel, pleaded guilty on both counts (unlawful entry and stealing) of offence charged on him.
He has been given a fine of ¢500 thousand and in default, 6 months imprisonment. He is also to hand over the sum of ¢5 million and in default, 3 months imprisonment.
Prosecuting, DSP SB Sarfo told the court that, the accused is a labourer at the Police Headquarters and had worked at the third floor where the IGP's office is located for more than 10 years.
He said on June 24, 2004, the accused informed his colleagues that he will travel the following day, June 25, 2004; and that he will perform the next day's work so that he could absent himself without problem.
The prosecutor said, when the IGP and staff closed from work at about 8:00 pm, the accused removed four louvre blades at the third floor corridor, went behind the IGP's office and broke through a hole of an old air conditioner, entered the office and ransacked the office for money. But when he could not get any money, he stole two bottles of Fanta, a bottle of coca-cola, a bottle of Guinness , two bottles of Malta Guinness, an umbrella, liquid soap, a diary, two pens, perfume and after everything, made foreign calls at the IGP's office to his wife in Canada.
When the IGP reported for duty the following morning, (June 25, 2004) he detected that a thief or thieves had broken into his office. He reported the case to the CID Headquarters and in the course of investigations, finger print experts lifted finger prints at the scene and when it was compared to finger prints of all those who had access to the IGP's office, the accused was traced.
He said when the accused was arrested, he admitted stealing the items and led police to recover the items at where he kept them.