Drop That (Yam) Phone! Is It A Way To Push Smart Phones On People?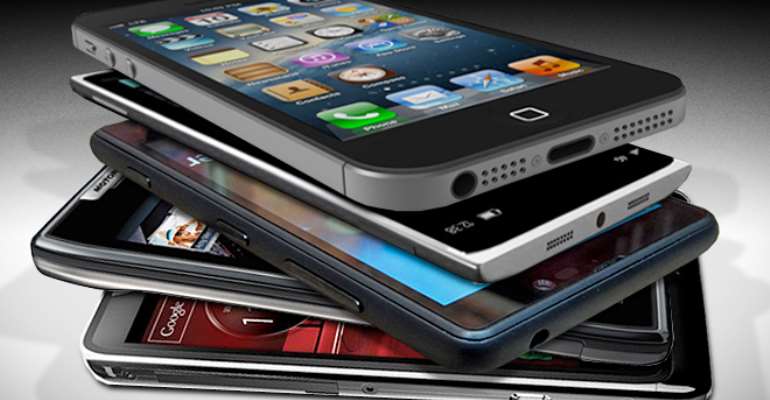 There's little debate that the most important communication device is the Smartphone, which is becoming increasingly sophisticated with advanced hardware such as the dual-core processors found in new devices like the Motorola Droid Razr and Samsung Galaxy Nexus. Beyond communication, smart phones offer some basic computing functions such as e-mail and web browsing which were until recently the domain of laptops. The questions to ask is are the devises affordable?
Mobile phones of all brands have so far succeeded in taking center stage in communication in many ways throughout the world. Calls are made and texts sent with ease between couples and families and government and private establishments in country and across borders. However a recent move by some persons to play down on some category of phones in favor of smart phones is disturbing.
A new advertisement on radio and television in Ghana is making a demand on a particular handsome man who was about to marry and was in possession of an ordinary phone to drop it to acquire a smart phone. The message is simple; young men are required by their mother in laws to drop that 'yam' phones or give up dreams of marrying their dauters and women of their choice. The advert was a marketing tool tied to an interesting drama. But the motive of the advertisers is not funny but a serious means of condemning users of millions of some category of phones currently in the hands of many people.
In this day and age of freedom of choice, do young and handsome men have to move over to the use of smart phones at huge cost just to have an opportunity to marry women of their choice? I don't think so. Smart phone companies have a right to market their products yet they should not use subtle means to push their products on all men. Men who wish to marry should be allowed to maintain their old fashioned phones until they are able to purchase modern ones. The so called 'yam' phones manufactured by NOKIA, SAMSUNG, and others are not useless but are already serving the purposes for which they were manufactured.
The phones have taken over the services of landed phones, wrist watches, clocks and radios. This means that apart from phone calls these phones have made it possible for many people to do away with wrist watches, radios and cameras leading to manufacturers of these items to lose out in their businesses unable to get markets for their products. A visit to markets in our cities and towns reveals large hordes of beautifully crafted gold and silver plated wrist watches, radios and cameras that are crying for buyers.
With regard to the smart phones I admit that they have come to do more by getting people to browse the internet send messages on twitter and wassapp, snap still pictures and shoot videos. Many people have reduced the use of desk top computers and laptops being carried in huge bags. In fact smart phone have made it possible for people to stop subscribing to newspapers and watching television making those phones mobile offices and homes to some category of people especially those in high level places like ministers directors in our ministries and companies.
However with all that it is meant to do in our lives, not many people who bought smart phones could make maximum use of them.
You would find many ladies and gentlemen especially the aged carrying smart phones without the knowledge and the interest to use then to browse the internet wassaps and twitter. All that these people could do is to listen to calls, send and receive messages and listen to radios on the smart phones. There is no difference between some people using the smart phones and those using the ordinary ones. In fact a cursory study shows that those using the ordinary phones outnumber those using smart phones.
Until anybody decides to purchase smart phones let us allow those using ordinary phones to continue using them.
The danger in using subtle ways such as adverts to get people to own smart phone is that those in possession of smart phone would tend to cause problems by teasing users of ordinary phones at meetings, offices and in public places. This could also lead to some users of ordinary phones to use all means, fair or foul, to own smart phone that they might not need. Those in possession of ordinary phones might not wish to display them in public for fear of being teased a situation that can lead to them losing messages or calls.
Come to think off this, there are many people in our towns and villages who are using ordinary phones a situation that is promoting literacy in these areas by those people most of who are illiterates learning to keep phone numbers of people. These people do not need smart phones.
The crave for smart phones might lead to rush by businessmen to import more smart phones a situation that might create anxious moments for the manufacturers and the traders. The manufactures would have to change the manufacturing format of their phones to be able to satisfy the demand of the buyers while the traders would endeavor to push away in our markets all their ordinary phones for the new smart phones. Those abroad sending phones to their loved ones would have to send smart phones instead of the ordinary ones for fear that they might be rejected by their families and loved ones.
Let us think again about mocking at people who own ordinary phones. That practice can lead to problems with people who cannot afford them but need phones to transact their day to day activities.
EANFOWORLD FOR SUSTAINABLE DEVELOPMENT
0244 370345/ 0264370345/0208844791
[email protected]/[email protected]