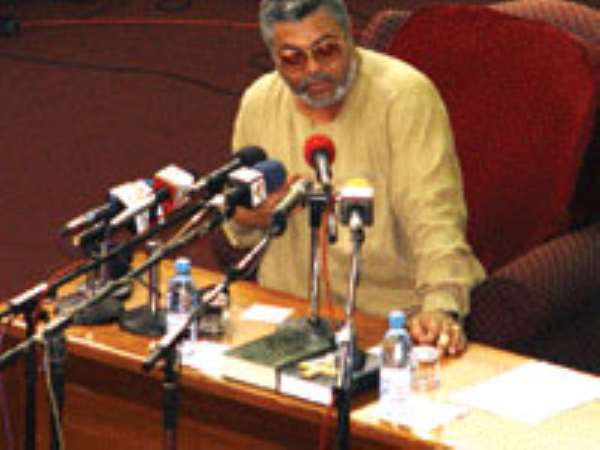 Last week, His Excellency Flt. Lt. Jerry Rawlings in an interview granted to radio Gold, called on Ghanaians to see through the desperate attempts being made by the Kufuor regime to divert attention from their abysmal failure to deliver on their myriads of promises. We reproduce here excerpts of what President Rawlings said on Radio Gold last week.
"If you want to assess the nature of Kufuor and his NPP regime, just look at the role and performance of Chris Asher and Adabuga at the NRC. The poisonous lies they are spewing are exactly what Kufuor does whenever he meets foreign dignitaries and African heads. What a shame!"
"The elections are four months away. The Kufuor regime has grown more desperate. What believable false promises are they going to make again-none! So their last resort is to put a spin on the killing of the judges, pin it on Rawlings, Nana and the Tsikatas as their campaign strategy, sow doubts in the minds of the people and confuse the people about who killed who."
"The fact of who killed the judges however had been established by their own judicial system and personalities during the revolution. If it is not good enough for them, then let me offer once again the following: The subjection of Rawlings and those paid and protected liars to an American FBI, French, British, Russian, Chinese and Cuban chemical interrogation test in full view of the TV and Radio stations for Ghanaians to watch for themselves. In less than 30 minutes you will all see and hear the shocking roles of those involved in this wicked conspiracy of lies."
President Rawlings then went on to name some of the liars that should be invited for the test. These are: Adabuga, Chris Asher, Kwaku Baako among others. Their sponsors in the persons of President Kufuor and Sam Jonah were also mentioned as persons who will be exposed as the architects behind the vicious campaign of lies and vilification.
The challenge has been thrown once again. Will the named individuals accept it or will they as usual resort to ridiculing the idea, which is their familiar way of running away from exposure? Time will tell but one thing is certain, they who run away today only live to face the truth another day.