December 31, 2014
|
Politics
POLITICAL LINES DRAWN IN BISU CONGRESS
David and Tomas -Northern Region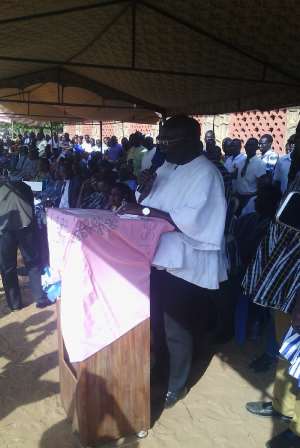 The 2014 National Congress of the Bimoba Students Union held at Najong No.2 in the Bunkpurugu/Yunyoo District of the Northern Region became the hottest platform for bitter political verbal exchange.
Dr. Mahamud Bawumia, the three times Running Mate of the opposition New Patriotic Party who was made Guest Speaker and expected to speak on a topic, "Improving Standards of Education in A Conflict Free and Healthy Environment in the Bimoba Area. The Responsibility of all. According to Dr. Bawumia, bad economic management was the cause of falling standards of education in recent times. He stated that all public sector workers were on arrears including teachers which made it difficult for them to properly deliver their services. He added that, government inherited $9.5m in 2008 as a National Debt which now saw a gargantuan increase of $62m and that, interest rate attached to the current debt was four times greater than the National Oil Revenue. He added that, SADA which was promised to be given annual budgetary allocation for twenty years was left out in the 2015 budget. Dr. Bawumia also pointed out that, abnormal increases in the petroleum products had direct negative impact on education in recent times. According to him, parents were heavily burden and could no longer afford the social responsibilities of their wards including education. He ended by assuring the gathering that NPP government was going to restore Teachers Training Allowances if it comes back to power in 2016.
The Hon Minister for Upper East Region, Hon James Tiigah, who was one of the invited Guests, before addressing the gathering, asked if the programme was meant for the New Patriotic Party (NPP) considering the speech read by Dr Mahamud Bawumia and the Mp for Bunkpurugu Constituency. Mr. Tiigah, expressed that, as a son of the Bimoba land he would not react to all the political score taken by the NPP at the event but, rather call on Bisu student leaders to ensure that, Politicians are not in the lead when they want to organize such events in future.
I am very disappointed to be invited as a son of the land to come and talk to you as students, only to be witnessing a political rally for the Npp. Nonetheless, I take this opportunity to thank all my chiefs, student's colleagues and my brothers and sisters of the entire Bimoba land. I must say that, first off all we know our number one common enemy in this area and that is conflicts, everything we need to achieve would come very easy. Mr. Tiigah talked.
The Upper East Regional Minister, who was so sad about the development of the event, ended his brief statement by calling on Bisu Leadership to redesign its style of programmes by not giving too much for politicians to drum the trumpet.
Other Speakers, include Proff, Hon Solomon Boar MP for Bunkpurugu Constituency and live Patron of BISU , Proff Amin Alhasssan, a lecturer at the University for Development Studies (UDS) Tamale. Mr. Amin who spoke on the Team "Accessing Tertiary Education for social cultural development of the Bimoba area". Tasked the BISU leadership to move to the district Assembly and demand sponsorship for students especially in the medical area, since UDS in Tamale is granting opportunity to remote communities to fill up the medical area. He added that, if the Assembly is ready to support students from the area to study medicine, the school could give attention to the district for at list not less than four to five students who hold the qualification, the Professor however advised the students to get serious when they are in school as many of them are reported to engage in all manner of immoralities that do not help in their studies.
The Northern Regional Minister who was the Guest of Honour for the occasion was represented by his able Deputy Hon. A. B. Fusheini the Acting DCE for Bunkpurugu/Yunyoo District. In his address, he lamented that, it was unfortunate for Dr. Bawumia to use BISU which was known to be neutral and nonpartisan association to preach politics. He added that, development of Bimoba area was key in President Mahama's Better Ghana Agenda which was the reason why both Regional Ministers of Upper East and Northern Regions were representing the President. Deputy regional Minister again stated that, if BISU continue to subject itself to political manipulations then it was bound to losing its core values of being nonpartisan and neutral.
According to Deputy Northern Regional Minister, who doubles as Member of Parliament for Sanagrigu constituency noted, that government as part of its Better Ghana Agenda expanding educational facilities and electricity to rural parts of the country including Bunkpurugu/Yunyoo District. Government's 200 Community Based Secondary School projects which the president initiated was ongoing and again Bunkpurugu/Yunyoo District was a beneficiary. He added.
The Minister also mentioned the Eradication of Schools under Trees and massive Rural Electrification Project were all part of government's effort to improve educational standard in Ghana.
The Deputy Minister before ending his address criticized NPP functionaries including Dr. Bawumia for leaving the event ground before the address of the Guest of Honour. He stated that, the act was uncalled for and stands for the core principles of NPP which was "All Die Be Die". He urged all the chiefs, students and all the people in the Bimoba area to forget of people who out of their political interest distract the peace of the area and stay focus for developmental initiatives carried out by NDC government.
The President of BISU Mr. Blaise Konlan, earliar in an interview told this medium, that the Union has been doing so well under his leadership, he is confident that, before their tenure of Office ends they would embark on several projects, while admitting the challenges faced by Bisu, Mr. Blaise pointed out that, they are working had to addressing some of the relevant concerns .brought to their noticed, During the interview Mr. Jara Dada who is the PRO of BISU , expressed that, BISU has only one source of funding and that, is through appeal for funds and this makes it difficult for the Union to carry out any capital intensive project , according to the PRO Bisu has plans of putting up a secretariat which intend to create job opportunity for the youth when completed.
Most students at the event ground told these reporters that, this year's congress deviated from its core values reading from the type of massages delivered by the invited guest, One who declined given her name said , she was disturbed in the manner Dr Bawumia went about with his speech , , According to her instead of Dr Bawumia speaking to the theme , "Improving Standards of Education in A Conflict Free and Healthy Environment in the Bimoba Area. The Responsibility of all as the Guest Speaker, he rather tried to make some economic analysis and related it to the standard of education in Ghana. In his attempt to compare and evaluate the performance of the current government, the renounce economist in my opinion diverted our attention into what is described as a political rally rather than a neutral and nonpartisan association of Bimoba students (BISU)
The Congress brought together several high profile personalities including, Hon Joseph Naabu MP for Yunyoo Constituency , Hon Philip Laari , immediate past DCE for Bunkpurugu/Yunyoo District , Hon Kwame Duut, immediate past MP for Bunkpurugu Constituency , Hon Hajia Alima , Hon Lawyer Dubik Mahama, Lawyer Suley Slim, Traditional rulers were not left out has the Paramount Chief of the Bimoba Traditional Area , Naa Alhaji Abuba Nasinmong Lemin of Bunkpurugu ,Naa David Kansuk of Nakpanduri , Kpikpera Naba and the host chief , the Chief of Najong No2 graced the occasion with Traditional colors.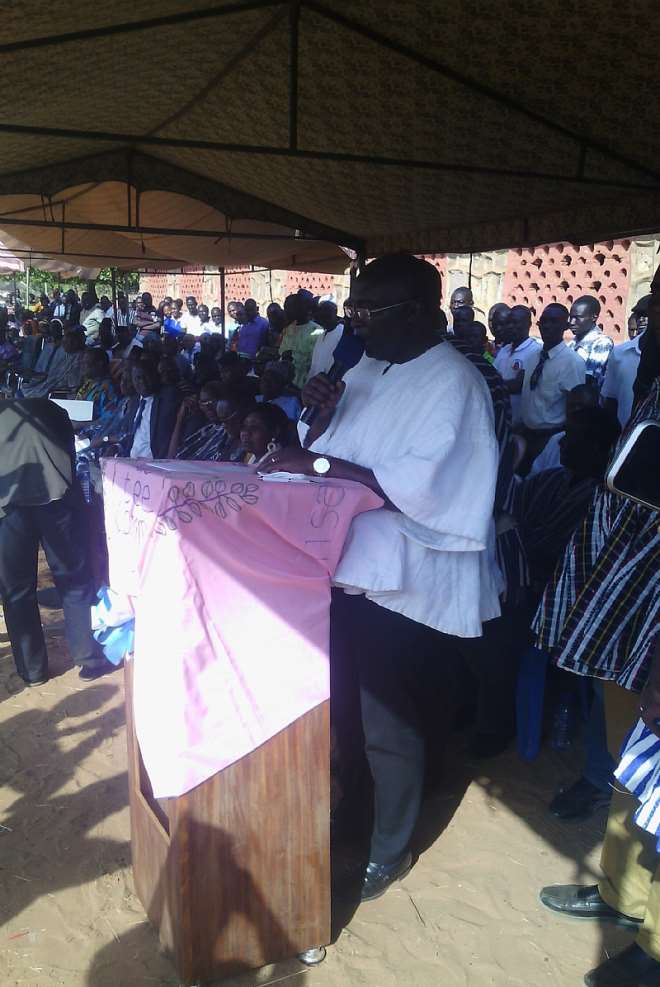 HON DR BAWUMIA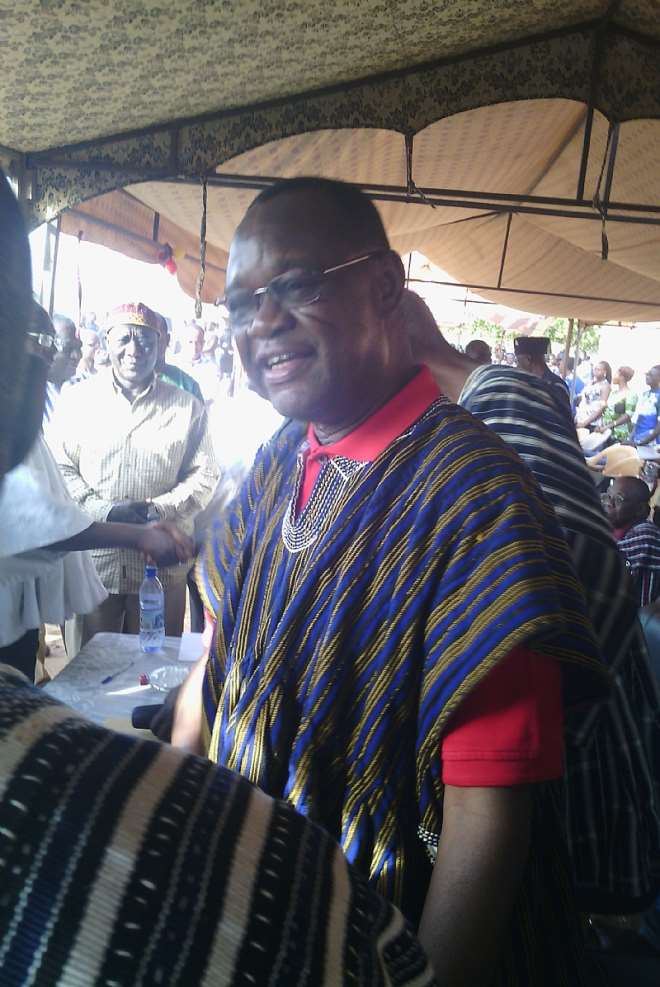 HON JAMES TIIGAH -UPPER EAST REGIONAL MINISTER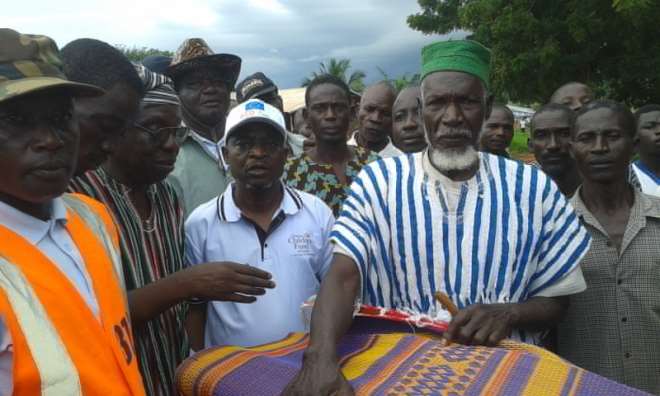 NADMO GIVES ITEMS TO VICTIMS