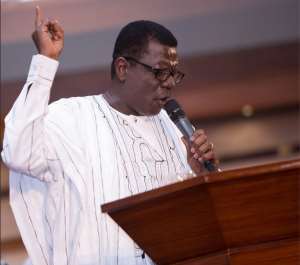 It is 2014;yet the rumpus in our nation seemed to be the one likely to be heard in December 2016. It surpasses the cacophony of sounds that followed Brazil's first goal against Mexico in the opening match of the 2014 World Cup.
The irony of all this is that Dr. Mensa Otabil, the founder of International Central Gospel church, declared 2014 as "a year of order" not because Justice Atuguba zipped the mouth of the NPP, but he (Otabil) had a vision to restore order in the lives of the youth most of which are his followers. Yes, we the youth are quite indisciplined. Just think about what we all do both in public and private.
He (Otaibil) has been teaching on Order, Leadership, Vision etc. on many platforms. Did his vision to restore order in the minds of the youth backfire seeing his very targets, like Sam George attacking him for his comments on the? Make your judgement but make it better than a party foot soldier.
The year kicked in with economic turbulence which spilled over from last year, and as usual, government passed some forex laws which incurred the babblings of economists. Then came Dr. Bawumia's lecture on the economy ─ praised by the NPP, basterdized by the NDC. Hmmm, but is it true that Dr. Bawumia didn't reflect the economic challenges from 2007 t0 2008 in his lecture?
He seemed to believe in predicting doom for his home land even when a stone cracker in Zimbabwe, where he works, still has more than 90-nonagenarian- hopes under Mugabe.
It is proper for politicians to reward their voters with honesty so that their mistakes would not be mistaken as Freudian Slips as in the case of "all die be die" or "yenti3 obiaa".
Daddy Lumba and Political Noise
"Yenti3 obiaa" is one popular song of Daddy Lumba(DL) that extracted azonto from many a big man in 2014. His songs either influence political happenings or the opposite is true. In 2008, he released a song for Nana Addo ( "nana y3 winner" you remember?) which got even NDC fanatics dancing. Shortly after Nana couldn't secure a win, DL released a new song tittled, "ay3 huhuhu" meaning it is now tough. And a line in that song reads "obiba b3wuoo"(someone's son/daughter is about to die).Can you see the fun here?
Fast forward into 2014, the highlife icon released a new song tittled, "yenti3 obiaa"( we will not listen to anyone). And this one almost took the wind out of President Mahama's sails. I mean a professional coup d'etat in communications almost occurred; no, not "My first coup d'etat". It really made noise;partisan-political-news.
How did DL know that the government would be stern on tax and tariff increments? How did he know that the bank of Ghana would not listen to advice from other economists that such forex rules would misfire? Was he given prescience to see Nana and his supporters "hijacking" the party by April, denying his opponents a fair contest even against the rules set by the new executives? And what at all informed that NDC communicator to say "yenti3 obiaa" is the President's favourite song?
In fact, answers to these questions are fugitive to a layman like me. Well, maybe J.M. uses such a song for praises.
AMICUS CURIAE AND AD VALOREM
I have never appreciated how confusing economists can be until this year when they kept drumming unharmonious sounds about how the economy should be managed. What Fitch and Moody, together with other economists say is totally different from what government economists think about economic management. These chaps read the same textbooks yet can't agree on issues that affect all of us. They even abandon honest discussions to attack one another. Those in government think their critics are arrogant, while the "opposition", including some civil society organizations, thinks government economists don't think enough.
If we don't educate ourselves in economic fiscal matters, these elites who know everything only when they are in opposition will start reading ethnic meanings into economic issues. Just when the woman at Makola started praying to God to rid our democracy of lawyers who are only interested in complicating simple things, like preferring "amicus curiae" to "a friend of the court" , economists are also roaring "ad valorem" instead of "according to value" all in the name of 'deepening our democracy'. Imagine Anita Desoso claiming that dwarfs took the cedi away. To purchase high heels? Just imagine. I am not sure she learnt this one in school.
DUNCAN WILLIAMS verses ECONOMISTS
Systemic thinking demands an understanding of a system by examining the linkages and interactions between the elements that make up the entire system. This, by my limited knowledge, means in solving a problem, one needs to consider all possible causes and how they can be addressed. So what is wrong with Duncan praying, as usual, for the Cedi to rise? This is what he has done for years to build his house and even that beautiful church with a bank, university and hospital. I think it really works, at least from what I see ─ intellectuals, entrepreneurs, accomplished politicians around the world going for his prayers.
There must be something about his prayers. But what were the apostles of economics expecting from Duncan, theories? Have they mistaken him for Karl Marx? The apostles of economics should spare the man the insults because his prayers, in a way, add to Ghana's GDP and beautify the Spintex Road. It was Chester Bowels who said "government is too big and too important to be left to the politicians. It is imperative for us to employ all available means and tools including hard work, constructive criticisms, whistle-blowing, transparency and prayer (call it illogical) to solve Ghana's problems. Amidst all these noise Ghana, our beloved country, must work again to restore order.
…to be continued.
Frederick K. Kofi Tse ([email protected])