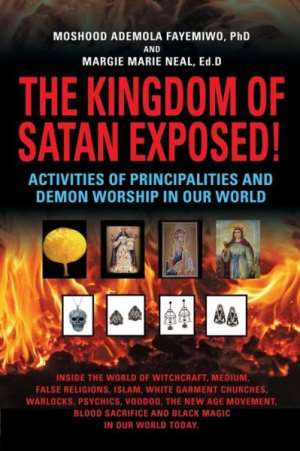 The concluding part of our predictions and prophecies began with these words on Thursday January 2, 2014; "…Here then is what the future holds for the world in 2014. Keep these predictions with the earlier ones as the year rolls by and cross-check their fulfillments" (See link: http://nigeriaworld.com/feature/publication/fayemiwo/010214.html). We began with what the Lord God Almighty planned for His Body, the church this outgoing year thus: "This year 2014 is the year of pulling down, and pulling up; strongholds will be leveled and those using the Name of God in vain in His house shall be exposed this year…"
Check in Nigeria and in your locality around the world and you will see the religious charlatans that were exposed this year without us mentioning names. We made some political predictions about Nigeria, especially President Goodluck Jonathan. We will hone home those predictions in this column before the end of 2014 and as we roll over some of the predictions for the incoming 2015. We predicted the outcome of the governorship election in Osun State, western Nigeria thus: "The re-election of Ogbeni Rauf Aregbesola of Osun State will be controversial as the PDP leaders in the state will do everything in their powers to cause mayhem and confusion in the state. In the end, he will be re-elected, but some political forces will come in between him and his deputy governor, Chief Mrs. Titi Laoye-Tomori. The deputy governor, on her part should pray against the sudden death of a member of her family in 2014." We were on target when we predicted the death of Alhaji Ado Bayero, the Emir of Kano and the installation of the former Governor of the Central Bank of Nigeria, Alhaji Lamido Sanusi, as the new Emir of Kano. "Alhaji Ado Bayero, the Emir of Kano should pray fervently to survive this year. Mama HID Awolowo too should also pray to make the year 2014. A former head of state of Nigeria will pass on this year.
Dr Sanusi Lamido Sausi will be torn between two career choices this year; to become the new Emir of Kano or contest for the presidency of Nigeria." We didn't know that our prediction on the death of a popular Nigerian academic who was also a former vice-chancellor was pointing at erudite professor of history, J.F. Ade-Ajayi, former Vice-Chancellor of the University of Lagos. Here was our prediction: "A popular Nigerian academic who has been a former university vice-chancellor will pass away in 2014." Prof J.F. Ade-Ajayi died on August 09, 2014 thus confirming our prophecy.
Before the Nigerian soccer team crashed out of the African Cup of Nations and Coach Stephen Keshi stepped down, we saw it early in the year and made this prediction thus: "The Nigerian national soccer team will be engulfed in crises over struggles for leadership, bickering and infighting over money and sexual immorality and lawlessness." In the same outgoing year, we predicted that "…a prominent indigene of Ondo State will pass away this year" without knowing who the prominent citizen would be. Well, the prediction came true as media report had it that "The Speaker of the Ondo State House of Assembly, Rt. Hon. Samuel Adesina Ajayi, is dead. He reportedly died Monday night at an undisclosed hospital in Lagos after several months of bedridden when he lost the battle of life to cancer. Late Adesina represents Odigbo Constituency 2 in the State House of Assembly before his death." Another prophecy also came up during the outgoing year thus: "A prominent Owo citizen-a man-will pass away in 2014" and so it happened as the Holy Spirit showed us. According to media reports: "A very prominent lawyer in Ondo state, Mr.Olufemi Adeyeri, on Thursday (January 16, 2014) slumped and died after attending to a case in a Magistrate court two in Owo Local Government Area of the state. It was gathered that the deceased slumped and died while walking out of the court hall after attending to his case. He was rushed to the to the Federal Medical Centre, Owo, but died before getting to the hospital, but doctors while confirming his death said he was brought in already dead. His neighbours at his house in Owo, described his death as a shocking, saying there were no signs that the lawyer had any health problem during the day. He is survived by wife and two children, Ibiyemi and Oluwole, and was also said to be a member of the APC." My be because I was born in Owo, Ondo State and the Lord wanted me to know what is happening in my home town even though I haven't been in the town for nearly 30 years.
Other prophecies and predictions the Holy Spirit used us to reveal in 2014 also extended to events and happenings around the world. Read this: "President Vladimir Putin will flex muscles with President Obama and lead a faction of the G8 toward setting up a global monetary system in collaboration with China as a counterpoise to the United States Dollar. This will create tense diplomatic relationship between Moscow and Washington." Are you abreast of media reports of late on what is happening in Putin's Russia? As I was writing this, the U.S. Secretary of State, Mr. John Kerry and his Russian counterpart, Mr. Lavrov are meeting in Rome on the new sanctions imposed on Russia by the United States and the European Union over Ukraine. But more importantly, Russia is vowing to draw blood over the United States Congress Bill to provide lethal military aid to Ukraine. More on this sabre-rattling by Putin and the fall-out in our upcoming predictions and prophecies for 2015 that will be published in this column in a fortnight. We also predicted that "Human rights groups, political activists and critical journalists will find it difficult under the Putin regime in 2014." This was before the CNN decided to pull-off the plug on its operation in Moscow.
During the outgoing year, the Holy Spirit showed us the direction of the Catholic Church in fulfillment of Bible prophecy. Hear what we predicted by His Spirit in January this year; "The current Pope will attack basic fundamentals of the Christian faith as we know it and the Pentecostal World will be outraged." Here are some of the most outrageous statements made by the current Pope according to the CNN. "During a homily in Rome on May 22, Francis said that God redeems everyone – not just Christians, but atheists, as well. "We must meet one another doing good," the pope said. 'But I don't believe, Father, I am an atheist!' But do good: we will meet one another there." The 77-year old Pontiff also made this statement, according to the influential CNN: "Meeting with Catholic leaders from his native Latin America and the Caribbean on Sunday, the pope said that there's a lot of holy people in the Curia, Catholicism's Rome-based bureaucracy. But there is also a "stream of corruption," Francis said, including a "gay lobby." "We need to see what we can do," he added, somewhat cryptically."
Before many American cities began to demonstrate against police brutality and the shooting deaths of black men in the year, especially the tragedies in Ferguson and New York, we saw it and delivered this message to the United States thus: "The Holy Spirit says; America as a nation does not "Speak up and judge fairly; defend the rights of the poor and needy," (Proverbs 31: 9)." May be it was too broad, but that was how we were told by the Holy Spirit, because as the Lord God Almighty says in Numbers 12: 6-8 "When there is a prophet among you, I, the LORD, reveal myself to them in visions, I speak to them in dreams. But this is not true of my servant Moses; he is faithful in all my house. With him I speak face to face, clearly and not in riddles; he sees the form of the LORD. Why then were you not afraid to speak against my servant Moses?" Well, we have a better covenant than Moses now, who was a servant of the Most High God, but we are no more servants, but children and joint-heirs with our Lord and Savior Jesus Christ, Hallelujah! But for the people of the world who have refused to acknowledge the Lordship and Sovereignty of our Lord and Savior Jesus Christ, we shall speak to them in parables because; "Though seeing, they do not see; though hearing, they do not hear or understand." (Matthew 13: 13). However, to us who are the elect and chosen-we say this and declare it with a high sense of humility and the saving grace of God without offering no one any apology; "…the knowledge of the secrets of the kingdom of heaven has been given to you, but not to them. Whoever has will be given more, and they will have an abundance (because) whoever does not have, even what they have will be taken from them" (Matthew 13: 11-12).
Here again is what the Holy Spirit says to the United States of America during the outgoing year: "The Lord God Almighty says He will continue to demonstrate His displeasure with the United States, because of our sins through nature and climate; desertification, drought, tornado, cyclone, hurricanes and the likes which will be unusual this year." Unless you do not live here in the United States you won't know what we are talking about. Did you see what happened in Buffalo, New York few days ago? Do you know what the State of California is going through in terms of drought and desertification? According to media reports, this year 2014 is one of the coldest in human history, but the coldest in the New Millennium. According to The Weather Channel in its report: "Greg Carbin of the National Weather Service's Storm Prediction Center told The Weather Channel that according to reanalysis data, Monday, Jan. 6 ranked as the 40th-coldest day on record since 1900 for the continental U.S., with an average temperature of 17.9 degrees for the Lower 48. According to this data set, Monday was the coldest day of the 21st century thus far nationally and the coldest since Jan. 12-13, 1997, but pales in comparison to the arctic outbreaks of December 1983 and December 1989, which together take the top four slots on the list."
In the same year, ever before Bridgegate and the scandal that engulfed Gov Chris Christie of New Jersey, the Lord God showed us the impending scandal and we revealed it on January 2, 2014 thus: "Gov. Chris Christie should be careful not to fall into a scandal this year which will threaten his presidential ambition." Again, you can click on the link to the 2014 Prophecies and Predictions and cross-check whether the Holy Spirit spoke through us or not. This concludes our post-mortem on our two-part series on the prophecies and predictions for 2014.
SPECIAL PROPHECIES AND PREDICTIONS FOR 2015: The human race has always thought themselves as cleverer than their Creator. We want to have it our way and egged on ceaselessly and propitiously by Satan and his demons to disobey and rebel against our Maker, we want to have it our way. But the Almighty Lord God is the One in total control and absolutely in charge. His counsel will prevail over the nations, whether human beings like it or not. He disclosed as much in Isaiah 46: 10: "I make known the end from the beginning, from ancient times, what is still to come. I say, 'My purpose will stand, and I will do all that I please.'
In Nigeria and across major countries of the world, indeed in all the earth, it is the sovereign will of God that will prevail. As we wrap up the outgoing year 2014, many Nigerians wait with bated breath on what the future holds especially the political destiny of Africa's most populous nation in 2015. The most singular event that will shape Nigeria in the coming New Year 2015 is the outcome of the February 2015 Presidential Election.
Who will win the 2015 Presidential Election? What is the will of the Sovereign Lord God Almighty for Nigeria in the coming year? How will events shape out as 2015 kicks in and 2014 rolls away? Beginning next week, you will read the Predictions and Prophecies for 2015 and the various dramatis personae and gladiators that will be involved in Nigeria in 2015 and beyond. Keep a date.
OUR BOOK NOW IN PRINT: The much awaited print edition of our book; "The Kingdom of Satan Exposed: Activities of Principalities and Demon Worship in our World" is now out. This is a good resource and handy evangelizing tool you can present to loved ones, colleagues, friends, neighbors, acquaintances and everyone who desire to know the truth and come to the saving grace of our Lord and Savior Jesus Christ. It is also a must-read for a Christian battling with a lot of issues-we are all battling with sundry problems and numerous issues-in our Eternal Journey. Visit our publisher's website, amazon, Barnes and Noble and other book retailers in the United States, Europe and Asia where good books are sold and order your copy today:-
http://booklocker.com/books/7825.html
http://www.barnesandnoble.com/w/the-kingdom-of-satan-exposed-activities-of-principalities-and-demon-worship-in-our-world-inside-the-world-of-witchcraft-voodoo-warlocks-and-spiritual-warfare-moshood-ademola-fayemiwo/1120887689?ean=9781634900898
http://www.amazon.com/KINGDOM-EXPOSED-Activities-Principalities-Worship/dp/1634900898/ref=sr_1_1?s=books&ie=UTF8&qid=1418611197&sr=1-1&keywords=moshood+ademola+fayemiwo
FROM MY MAIL BAG THIS WEEK
Dear Dr.Moshood Fayemiwo, Calvary greetings in the Name of our Lord and Savior Jesus Christ, please check the issue of Sabbath/Saturday keeping. The Lord wants us to keep His commandments as born again Christians-John14:15, Exodus 20:8-11 and John 15:10, 1 John 5:3.What is your take on the issue of the mark of the beast? Remain blessed in the Lord, Amen ....Dr. Sylvester Edo, Benij City, Edo State, Nigeria.
Dear Dr Edo, thank you for your question. I have received questions from fellow Christians over the twin issues of keeping the Sabbath and Mark of the Beast. While these are issues that can be answered in a reply to a question because the two matters require separate articles of their own, I will make it short. Beliefs and doctrines are two different issues in Christendom. The Sabbath which is the Third Day that the Lord rested and thus declared it a Day of Rest according to Exodus 20: is part of the Decalogue. It should be observed, but however, we are not under law any more but under Grace. Our Lord Jesus Christ had declared us free from the Law through His Death and Resurrection on the Cross; consequently, we are not chained by laws and ordinances any more as redeemed children of the Mosh High God, Hallelujah! But does that mean we should set aside God's Law because of Jesus Christ? No. After all, our Lord Jesus Christ said He didn't come to set aside the law rather to fulfill it.
But what He meant was that, under Grace we are at liberty now to observe the law with flexibility not out of obligation but out of law for our Lord and Savior. In other words, we are not didactically tied by words such as "You must do this," "You must do that." Does that mean we shouldn't observe the Sabbath? On the contrary, we should observe it but with flexibility just as Apostle Paul disclosed in Colossians 2: 16-17: "Therefore do not let anyone judge you by what you eat or drink, or with regard to a religious festival, a New Moon celebration or a Sabbath day. These are a shadow of the things that were to come; the reality, however, is found in Christ." Consequently, if any born-again Christian finds it convenient to observe his/her Sabbath on Saturday and another on Sunday or still another on Monday, so be it.
Now I don't have a take on the mark of the beast but know what the Holy Bible says about it. My take doesn't really matter. Revelation 13: 16 tells us that the Anti-Christ will soon appear and control the affairs of the world, institute a tyrannical one world government and one religious regime under him and oppress the human race. He will make sure every human soul under heavens submit to him and gives an identity to every human being so that anyone who doesn't have the mark of the beast will not be able to conduct legitimate commerce. The import of the scripture as revealed to Apostle John by our Lord Jesus Christ is the fulfillment of Bible prophecy and the conclusion of the age as the Almighty God begins to judge the human race. The most significant import of the scripture to us born-again Christians is that, this incident won't occur until after and not before the Rapture. In other words, I will be out of here before this bad guy who is working at the behest of Satan appears on the scene. My prayer is that you too will not be here as well. In the future, I will elucidate more on these two issues in comprehensive and full length article in this column.
---------------------------------------------------------.
Good day Dr Moshood. Thank God for using you to boldly speak against evil being perpetrated by some people and leading God's people astray. I've been following your open letter to T B Joshua to repent or face God's wrath. I hope God gives His people the wisdom to know what is right and what is wrong. Thanks---Chigozie O, Lagos, Nigeria.
---------------------------------------------------------------.
My dearest Moshood, I have come to terms that you are truly a God's sent and gift to humanity. You are truly a real child of God. Continue doing the good work. May your generation never lack and they will live long. Remain blessed in the Mighty Name of our Lord and Savior Jesus Christ. ---Mr. Bernard Nnamdi Leonard, Omnia Academy, Favara Agrigento, Italy.
Thanks my brother in the Lord. You too are a gift of the Lord to humanity. Remain blessed in Jesus Mighty Name, Amen.
------------------------------------------------------------------.
PS: There are many questions and puzzling issues agitating our minds as we read the Holy Bible as redeemed children of the Lord God Almighty. Although we go to church and participate in church activities, read the Bible personally and in concert with others, participate in the usual and mandatory Bible Study sessions as part of our spiritual activities but some of these probing issues remain largely unanswered. In my one-on-one with my Creator, the Lord Jesus Christ, the Son of the Living God and my communion with the Holy Spirit, I call such perplexing questions: Conversations with the Lord God Almighty. I know you too have some of these unexplained puzzles and issues too. For examples, why did God allow pain and sufferings in the world? Why are the evil people progressing and those who want to do well are being persecuted? Why are some materially rich and many are poor? Send me your questions, email them to me and let's talk. We thank those that have sent in questions and we will continue to answer them as the Holy Spirit teaches us. Once again, please keep the questions coming so that others in the kingdom can benefit. Remember when we pray to the Lord, we say "Our Father who is in heaven' and not "My Father who is in heaven." He is our Heavenly Father and He wants to teach us and not me. Share your thoughts and ideas with other believers and build up His kingdom.
---------------------------------------------------------------------------.
*Dr. Fayemiwo is quondam professor of Biblical Exegesis at Kingdom Bible College and Seminary, Tucson, AZ and CEO, Alternative Lifestyle Communication, DBA Chicago. He is the co-author of the book: "The Kingdom of Satan Exposed" and also member, board of directors/ director of administration, The Millennium Stem Academy Charter School of Chicago, Illinois. Visit his company's website at www.allternativecommunication.net. Please all private email for urgent attention should be sent to this email address: [email protected]