Menyiwa Dawodo NGO Holds Seminar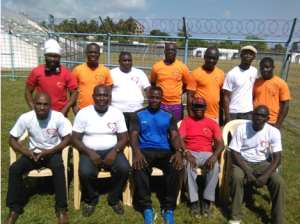 A training seminar has been organised by Menyiwa Dawodo, an NGO, for some selected youth coaches including first aid coaches in the Central Region to enable them to encourage and coach young sports talents.
The one-day training workshop which was held at the Conference Room of the Robert Mensah Sports Stadium in Cape Coast, brought together coaches in table tennis, athletics, boxing, football and volley ball among other disciplines.
Mr. Theophilous Opai, a youth coach from Germany, who took the participants through several areas including coaching philosophy, knowing why children engaged in sports, developing the interest of children in sports, integrating all sexes in sports and encouraging children's participation in sports, said coaches must endeavour to upgrade their knowledge.
He said the purpose of the seminar was to enable the coaches to understand and appreciate the coaching of children as a profession.
He added that the objective of any sports function for children was to help them to develop key social skills such as sharing,leadership skills and building good rapport in their various fields of discipline.
MrOpai said, the "participation in sports gives a child a higher level of self-esteem and a more positive outlook on life", adding that children who participated in sports experienced lower levels of depression.
He explained that children who participated in sports had more positive body image, and experienced higher state of psychological well-being than those who did not engage in any form of sports.
He noted that adults that were active in sports and recreational activities feel greater confidence in their physical and social selves than those who were sedentary as kids.
MrOpai, however, challenged the youth coaches to teach child-teamwork, goal-setting, and the pursuit for excellence.
He implored the coaches to take keen interest in the children they coached in order for the children to develop in their interest in the sports.
"Children learn how to deal with failures and how it feels to be successful", he advised the coaches, stressing that "sports can teach us to take appropriate risks and to be aggressive when needed".
Touching on barriers to developing the children's sports, MrOpai said family and the society were among the obstacles youth coaches must overcome to enable them to carry out their work successfully.
Some of the participant who shared their experience after the workshop expressed optimism that the workshop would help them to execute their coaching skills very well.
"It was a very nice programme, although some of the things we were taught we knew them already, it was very helpful because we have forgotten some of them", Mr Stephen Pennah, a participant said.
In addition, he said "we were taught many things including social coaching, that is informing the children's families about the talents of their children and how to develop the children's interest in sports".
The Country Director of Menyiwa Dawodo, Mr. Aboagye Mawuli commended the coaches for comporting themselves well during the workshop.
He said the organisation would continue to play its role in developing the country's sports particularly that of the children.