Eurobond proceeds controversy: Akoto-Osei wants BoG clarification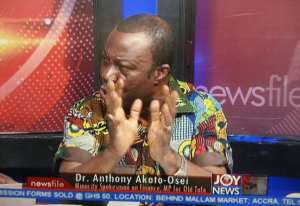 The Bank of Ghana (BoG) has been lured into the controversy about the utilisation of $1 billion Eurobond proceeds, although the Finance Ministry tried to quell the matter.
Minority spokesperson on Finance, Anthony Akoto-Osei, wants the central bank to speak on the matter because a recent explanation by Deputy Finance Minister, Cassel Ato Forson on how the Eurobond money has been utilised muddies the water further.
The former Deputy Finance Minister says the government indicated it "will finance the 2014 budget with all the Eurobond [proceeds]", but that has not happened.
Speaking on Joy FM and Multi TV's news analysis programme, Newsfile, on Saturday, Dr Akoto-Osei still insists the Bank of Ghana Monetary Survey, which he described as "one of the best statistics in Ghana" shows the Eurobond proceeds have been used to pay government debts to the central bank.
In an attempt to quell the controversy surrounding the status of some $1 billion Eurobond proceeds, Finance Ministry last week released details of utilisation of the funds.
The $1 billion was what government obtained from an oversubscribed third Eurobond issue in September, 2014. It has a 12-year maturity, with a coupon at a rate of 8.125%.
Since the completion of the bond issue, the Minority in Parliament has made several claims the money is not being used for its intended purpose.
Deputy Finance Minister, Cassel Ato Forson, offered the following details about the disbursement and utilisation of the $1 billion Eurobond proceeds in a release issued last Wednesday:
" i. An amount of US$200 million was planned to be used for short-term debt re-financing. Of this amount, a total disbursement of US$64,993,254.06 was transferred to pay for the maturing 3-year Government Bond totalling GH¢200 million on 15th October, 2014. Thus, leaving a balance of US$135.01 million on this item.
"ii. Secondly an amount of US$250 million was planned to be used for Ghana Infrastructure Investment Fund (GIIF) Account. As at 24th October, 2014 the total amount had been transferred into the GIIF Account as a Seed Capital for the Scheme which will be commissioned in early 2015.
"iii. Thirdly, an amount of US$250 million was planned to be used to fund capital expenditure projects. As at today, a total of US$114.95 million has been used to pay for various projects, leaving a balance of US$135.05 million.
"iv. Finally, an amount of US$288.71 million was planned for Counterpart Funding. Nothing has been utilised so far, under this component."
However, Dr Akoto-Osei thrashed the Finance Ministry's explanations once again on Newsfile Saturday December 13.
"They are saying that they are planning to use it next year because it is not showing [in the 2014 budget]. Originally the 2014 budget claimed it will be used this year but it has not been used. Today is December 13, 2014".
He was hopeful however that between December 13 and 31, 2014 the Finance Ministry would find the money to use for the intended projects.
According to Akoto-Osei instead of the Finance Ministry's determination to convince Ghanaians that the money is intact or being used judiciously, a response from the central bank would be a more credible one. Story by Ghana | Myjoyonline.com | George Nyavor | [email protected]