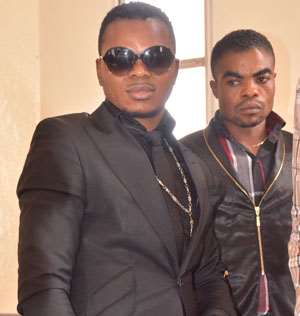 Thankfully, Bishop Daniel Obinim does not indulge in lots of apostolic verbigeration–the constant repetition of meaningless expressions and phrases to confound and bamboozle. He tells you as it is–ina fraction of a second. At the sight of the perplexed, the God's Way Bishop is able to enter into the spirit realm, diagnose a family curse or some misfortune that has been planned against a person, and produce the results in the form of prophecy from Heaven.
He has been chosen in these evil and adulterous times to direct a broken humanity to God's Way–forlife, grace and health. He heals the sick, visits people in their dreams and even offers lotto numbers for free. Isn't it God's Way for His people to enjoy all these blessings exceedingly, abundantly and above all?
So what are Bishop Obinim'sworst faults for providing healing to the sick? Amnesty International says the way the Man of God deploys his healing gifts constitutes human rights abuse, and wants him arrested. The man Obinim is made of two unique attributes: the first is his name (Obinim), which translates into English as somebody knows, or nobody knows (Obinnim, with a double N). The second attribute is the name of his church: God's Way International. Obinim God's Way (Somebody knows God's Way), or in the case of the second spelling of his name, nobody knows God's way.
In the healing video that went viral, the young flamboyant Bishop is seen kicking a woman (pregnant, or maybe not) in the stomach with his legs. He twists and turns his right leg in various angles whiles the poor lady lay almost supine, receiving the healing of the man of God–from his properly manicured designer shoes. The woman receives her healing instantly from the ailment or curse, or whatever Obinim had diagnosed. His usually ecstatic congregation lauds the Bishop and his God for another miracle. The other day, he lay on a member of his congregation, and as if to breathe life into his body, he mumbled a few words onto the victim suffocating beneath him. He also got his healing. Elsewhere in South Africa, a Bishop made his followers eat grass.
It is God who works in us, for His will and His good pleasure (Philippians 2:13). Afia Schwarzeneggerhit it too hard when she used unsavoury language to describe Obinim's manifestation of God's power. In biting sarcasm, Afia opined that the Gospel of Jesus Christ has suddenly become too affordable for a character like Obinim to count himself among preachers of the Word. In the two part video, Afia poured out raw and indecent oral pornography to paint the young Bishop too black for the work of God. After watching the full video, you wonder whether Afia Schwarzenegger had not succeeded in dressing herself in the same robes that she had sewn for Obinim with her tongue.
We live in precarious times. In the midst of misery and despondency, people are genuinely hungry for answers to basic problems, and they would look anywhere for solace and succour. It doesn't matter how the solution is packaged or the price of the sacrifice involved. The other day, I told how a bishop in a charismatic church offered to make great prophets out of children if their parents paid an amount of money. He called out for those who would pay GH10,000 for the special prophetic anointing.He quoted Isaiah 54:13, proclaiming that "All your children will be taught by the Lord, and great will be their piece." People poured forth to the podium to covenant with the man of God. He prayed and pronounced blessings on their kids.
The price was reduced to GH 7,000, then to GH3,000 and finally to GH1,000. In the end when he announced that the congregation could bring forth any little money they could afford, it was possible to make your child a prophet at the price of GH1. As they yelled Halleluiah and praised the Lord, filing past one another to dance before the pulpit, a lady walked to my pregnant wife and quizzed: "Madam, you are sitting on your blessings by not standing up. You cannot be seated when the anointing is flowing at this rate." Did she not see that she was pregnant and needed to sit and rest her weighty belly? After a while, the pastor called my wife to the front to 'prey' for her.
That is how we left that church for a more progressive one. I had a similar encounter in London when the beautiful usherettes at the entrance of a new church marched me to the high table, where I sat with church leaders and the Bishop. Had they mistaken me for a visiting pastor? I had been warmly attended to by security men at the parking lot to park my rented Mercedes. With infectious smiles, a lady collected my Bible and administered a rare dose of apostolic hug, pressing her ample bosom quite firmly on my very carnal torso. The Bishop preached about family curses and harsh living conditions of immigrants in London. He called out a woman and revealed that she was not married because her family in Ghana had turned her face into a dog. It scares men away.
He paused and turned to me: "Sir, you are a great man. I can see you teaching lots of people. You have secured huge plots of land for a house in Ghana and somebody called Kwaku is messing with the documents." Well, parts of what he said were correct. The high table is not meant for losers. I had come to church in a brand new Benz (nobody knows (obinnim) it was borrowed). True, I was a teacher in London.
True, at my age, if I had no plans of building a house in Ghana, then I am a picayune. Well, the papers on the plot had not been completed at the time, but I don't remember any Kwaku messing with them. Or maybe the spiritual Kwaku did mess me up after all, because I lost the money and the land eventually. Am I too lettered to believe in prophetic 'preyers' and the gift of healing? I don't lack discernment; what I need now is my plot of land.
Kwesi Tawiah-Benjamin
[email protected]