Gov't Publicizes Eurobond Proceeds Expenditure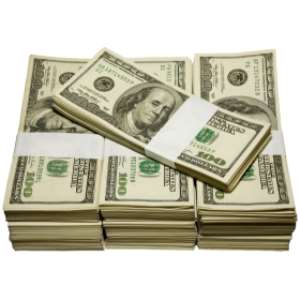 Cassiel Ato Forson
Government has released details about how it disbursed and utilized proceeds from the $1 billion Eurobond it floated in September this year.
This was in response to a request by the Minority in Parliament to have the details made known to Ghanaians.
The Minority claimed proceeds from the third Eurobond issue, which was oversubscribed, had been used to service Government debts.
In a release issued on Wednesday in Accra signed by Cassiel Ato Forson, a Deputy Minister of Finance, Government noted: "An amount of US$200 million was planned to be used for short-term debt re-financing. Of this amount, a total disbursement of US$64,993,254.06 was transferred to pay for the maturing 3-year Government Bond totaling GH¢200 million on 15th October, 2014, thus, leaving a balance of US$135.01 million on this item.
'An amount of US$250 million was planned to be used for Ghana Infrastructure Investment Fund (GIIF) Account.
'As at 24th October, 2014 the total amount had been transferred into the GIIF Account as a Seed Capital for the Scheme which will be commissioned in early 2015.'
'Thirdly, an amount of US$250 million was planned to be used to fund capital expenditure projects. As at today, a total of US$114.95 million has been used to pay for various projects, leaving a balance of US$135.05 million. Finally, an amount of US$288.71 million was planned for Counterpart Funding. Nothing has been utilized so far, under this component."
The $1 billion bond has a 12-year maturity, with a coupon at a rate of 8.125%.
The funds, according to government, are being used to fund capital expenditure in the 2014 budget.
Minority spokesperson on Finance, Dr. Anthony Akoto Osei, had claimed that he had evidence from the Bank of Ghana's monthly monetary survey that the money was absorbed by the Central Bank to settle part of government's indebtedness.
But explaining the issue, Mr Ato Forson said in September 2014, when Government account with the Bank of Ghana was credited with proceeds from the Eurobond issue, Government deposits with the Bank of Ghana increased by the full extent of the amount that was credited to Government.
'As a result, Government's net position with the Central Bank improved and this is what reflected in the monetary survey as a reduction in the Bank of Ghana's net claims on government at the end of September 2014 from the position as at end-August, 2014.'
That is the standard treatment of all Government deposits with the Central Bank (for example the intake and disbursements of the 2007 and 2013 Eurobonds as well as programme loans and grants from development partners, according to him.
'This has nothing to do with the utilisation of the Eurobonds proceeds and it also does not mean that the proceeds have been misapplied. 'The total amount utilized so far is $191.23 million, leaving a total un-utilized amount of $808.77 million, part of which has been lodged into various designated accounts.'
By Samuel Boadi