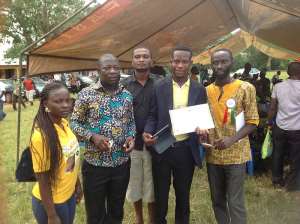 Mensah Mental Health Rehabilitation Project (MEMHREP), an NGO headquartered in the UK, with many branches across Africa emerged the best institution in maize production in the Atwima Kwanwoma District of Ashanti Region. The award was given to MEMHREP during the 30th Farmers' Day Celebration in Ghana last Saturday.
Even though MEMHREP's sole objective is to provide personal care and support to people suffering from mental health problems across Africa, this registered Charity Organisation decided to venture into agriculture with the view to feeding its clients to minimize cost and to raise funds for its activities. As a result, MEMHREP embarked on large scale mixed cropping in April this year at Mpatasie in the Atwima Kwanwoma District of Ashanti. Interestingly, MEMHREP produced a considerable number of bags of maize on its 15 acre land within 4 months.
It has also replanted in the new season to meet demands in January. This singular feat caught the attention of the Atwima Kwanwoma District Directorate of Agriculture. No wonder, MEMHREP became the recipient of the best institution in maize production in its first attempt in venturing into agriculture. For its prize, MEMHREP received a certificate of merit from the Minister of Food and Agriculture, one spraying machine, two bars of key soap, one radio set, one Wellington Boot, and four cutlasses.
Although MEMHREP is currently providing care and support in terms of feeding and clothing to a number of mentally-challenged people on the streets in Ghana, the Organisation, in the long run, would provide shelter for these distressed people, rehabilitate them through the provision of medical attention, and reintegrate them into the communities by equipping them with employable skills.
This will help rid our cities of the mentally-challenged people who are not only stigmatized and discriminated, but also many a time pose a threat to our security, environment, and investment. As part of MEMHREP's commitment to showing love to these unfortunate fellow human beings, the Organisation has been donating foodstuffs to health institutions and the Psychiatric Hospitals.
With many mentally-challenged people scattered around Africa vis-a-vis MEMHREP position as a non-profit organisation, a number of challenges are thwarting its efforts. MEMHREP therefore takes this opportunity to appeal to philanthropists, individuals, institutions, and the government to assist the group in logistics and finance. This would make the NGO achieve its objectives. For those in abroad, you could call on these numbers: 0044(0)757 262 5833 (UK) and 0013476476864 (USA). For those in Ghana, the donations could be channeled through: Cal Bank, Kejetia Branch. A/C Name: MEMHREP: A/C No: 1501017809014. Remember, no contribution or donation is too small, so kindly help us to help them: "Boa Onyame Adehye3".
We take this opportunity to show our gratitude to all those who contributed to MEMHREP's success story, especially the Director, Mr. Mensah Adu-Gyamfi, Messrs Nti and Abankwa, as well as other volunteers, especially the "By-Day Labourers of Mpatasie community.
Visit: www.memhrep.org.uk