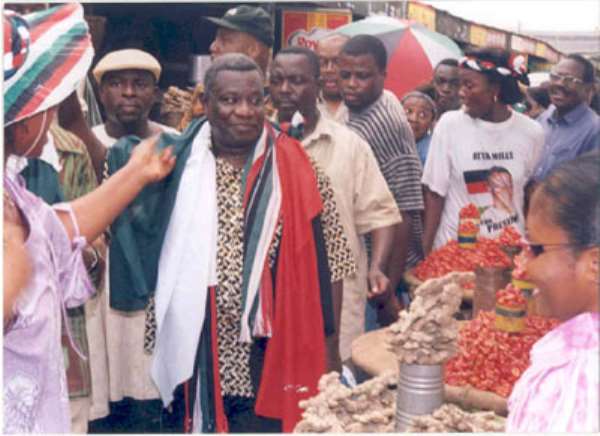 Dorimon (U/W), July 8 GNA - "A factor that is likely to determine the outcome of the upcoming December Parliamentary and Presidential elections is the ability of the electorate to discern between falsehoods and truth in the campaign messages of the political parties and their presidential candidates." Professor John Evans Atta Mills, Flag Bearer of the National Democratic Congress (NDC) made this assertion when he addressed the chiefs and people of 10 communities in the Wa District. The NDC Flag Bearer, who is on a five-day tour of the Upper West Region, described his visit as a self-introduction one, in preparation for the start of the campaign for Election 2004. Professor Mills said having had the opportunity to compare the difference between NDC rule and that of the present New Patriotic Party (NPP) Government, Ghanaians were now placed in a better position to make a crucial choice as to which of the two parties they should entrust the destiny of the country to, in the elections.
He urged Ghanaians to ignore those, who were calling for a second term for the ruling NPP saying: "Giving them four more years is like signing your own death warrant."
The NDC Flag Bearer said the living condition of Ghanaians had so badly deteriorated under the NPP rule to the extent that many Ghanaians were not only living in misery and poverty but that most Ghanaians had to resort to begging to keep body and soul together.
Prof. Mills said wherever he went, people complained of hardships and asked the Government to accept the reality that life was indeed hard for the majority of Ghanaians.
He pledged that the NDC would not do anything that would disturb the peace and unity of the country and called on the Party's supporters to be disciplined, and to resist violence and provocations by their political opponents.
Professor Mills called for fair and transparent elections and urged supporters of the Party to be more vigilant to forestall possible vote stealing on the polling day.
Earlier in the day, the NDC Flag Bearer had paid courtesy calls on a number of Opinion Leaders and Community Heads of the various ethnic groups in the Wa Township.