Policing For The Public Good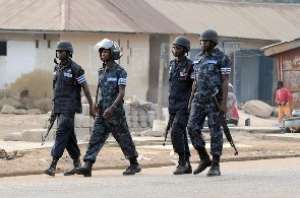 There is a local adage that when your neigbhor's beard is on fire, you are inspired to have water nearby for the protection on your own Beard. The headlines regarding police use of excessive force in law enforcement brings this adage to mind. So I ask myself and I hope you also ask yourself: Is this a unique American problem?
The News media in the US are 'selling' this story as a race issue, although many level headed commentators have indicated that this the situation is more than just a race issue but also of socio-demographics-education, poverty, and neighborhood. In the most recent cases of Eric Garner who was Choked to death, and Michael Brown who was shot to death, many of us wonder if the police had exercised a little more of soft power rather than brute force? Perhaps the demonstrations in many cities in the US will not be happening. However, I believe we can learn much from the fact that they have happened.
The first thing we can learn from the Americans is that they did not just accept this as 'normal' part of life. Civil society and the general public has risen up to question the police and to demand the government to do something about this. I believe this is worth emulating. I have seen too many situations where Ghanaians behave like the Police are Kings, just because they wield authority that we have given them. However, they are our own brothers and sisters wearing a costume. We live with them when they are off duty. We know they are not blameless people. They make the same mistakes we all do. They are only human. My point is the police are fallible and can make wrong judgment. When they do, we should not be afraid to call them to order. It however starts when we recognize that they can be wrong.
The second thing to learn is that there is a good way to point out police errors. This week, I have watched how in New York, and other cities, citizens have marched peacefully to indicate their position of abhorrence to police brutality. And its working. The lesson is it does not take much beyond getting your message heard. Not quitting until the duty bearers take action.
Too often, we expect someone somewhere, like radio stations, etc will take up our cause. However, we do know that radio and TV stations are a business, looking for the next 'bad news' to broadcast. There is a saying that 'if you want something done well, you have to get up and do it yourself. I think its time Ghanaians decided to take up the responsibility to question police brutality here in Ghana but use legal means.
I am making this call on Ghanaians because we have a history of Police Brutality. A few years ago when we were having serious armed robbery challenges, it was common to hear people say: shoot them an kill them. I used to cringe at this message because there had been many previous incidents in which police shot and killed innocent people in error. Indeed during that period, many lives were taken in error. Because these people were mainly from poor, less educated backgrounds, justice was not served.
As these situations unfold elsewhere in the US, I call on the IGP to comment on this with the view to keeping Ghanaians from falling prey to the same situation. Civil Society has a role to demand for such dialogue with our police service if we do not see action from the police.
I write this for the Good of our country. God bless us all.
Richmond Aryeetey...