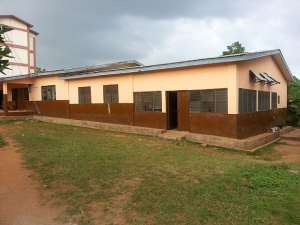 Out of the many needy disability educational institutions in the country, The Sangy Foundation led by its Vice President, Sara Nana Yeboah and a team of volunteers have given a deserving facelift to various dilapidated facilities on the campus of the Koforidua School For the Deaf.
She noted the priority to chose the school among numerous applications to benefit from the Glam School Initiative was the foundation received emails with pictures of the various structures and with special deliberation with the board, the school was finally approved.
The team which arrived in very early in Koforidua on Friday amidst welcome from the Headmaster and students quickly took a tour to confirm the request made by the school.
Various Structures including the school's dining hall, headmaster's bungalow, classrooms, and dormitories were all painted within the next two days. The project also saw some of the students voluntarily picking brushes to assist the volunteer who could interact with them with their own version of sign languages.
In a special interaction with the two adjudged volunteers; Wisdom Kwashie Mensah and Nathaniel Noye, they expressed their belief that the facelift will motivate the students to learn hard and make teachers more committed to their duties in a refreshed environment.
After 48 hours of dedicated painting and minor cement works, the president of The Sangy Foundation, Mr. Godfrey Yeboah handed over the finished project with more paints to renovate other facilities the team couldn't reach out to in a short handing over ceremony.
The headmaster in his appreciation speech thanked The Sangy Foundation for their kind gesture on behalf of the school authorities, staffs and students and extended calls to government and other NGOs to come to the help of the special school made for the deaf.
This special project dubbed the Glam School Initiative was organised by The Sangy Foundation with kind support Westcoast Beverages Ltd as led sponsor, Kwaku David, Vin Leo Donkor, Jennifer Agyeman, Dr Annie Gbedzie and others.
Akpah Prince