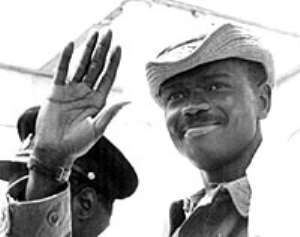 Students & crowd Shouted: "let the blood flow." Accra, July 6, GNA - Mr. Joss Aryee, a Journalist now working with the Chronicle on Tuesday gave a vivid description of the execution of the Generals on June 26, 1979, saying he could not understand why the soldiers made General Afrifa to go through so much agony before he died. Mr Aryee, testifying at a public hearing of the National Reconciliation Commission (NRC) in Accra said the six Generals, who were executed that day were Akuffo, Bob Kotei, Afrifa, Yaw Boakye, Roger Felli and Joy Amedume. Mr Aryee, who said he was then working with the Ghana News Agency (GNA) and attached to the Armed Forces Revolutionary Council (AFRC) Secretariat when the Generals were executed, said he got to the Teshie execution grounds at about 0545. He said the Generals were driven there in two Pinzgauer ambulances, with bodies of General Acheampong and Utuka, executed a day earlier, in one, and six living Generals in another, preceded by a jeep equipped with gun on top, and communications van around 0915 to a place besieged by a waiting rowdy crowd. The Witness said the six who were to be executed got down with their faces tied, while people booed at them. Mr. Aryee said they were taken to the execution grounds and were tied at the chest and knee to the sticks adding that barely five minutes later they were shot by soldiers hidden behind the tent. He said they all fell with blood stains in their shirts adding that a short while later Afrifa began to rise screaming " I'm not dead. I'm not dead." Witness said Lance Corporal Tasiri Adongo , a member of the AFRC, ordered press photographers not to take any pictures of the executions. The officer commanding the soldiers got close to Afrifa and fired at him adding that the bullet rather hit the sand bags behind while the crowd, especially the students shouted: "let the blood flow." Mr. Aryee said the officer then fired at Afrifa in the stomach, the chest and shoulder. He said Afrifa started to rise again, adding "at that instance somebody offered the Officer an SMG and he fired at Afrifa at the head who fell with agony."
"Immediately after the executions, an aircraft flew by and wriggled its wings, which one of the soldiers explained to mean it's a sign of congratulations for a good work done."
He said a woman who drove past in a Mercedes Benz car was crying when she saw what was going on, adding that some of the soldiers beat her with their belts while some people in the crowd threw stones at her.
Mr. Aryee said since there was no doctor to confirm that the generals were dead he went to the Guard Post to file his first "take", first few paragraphs of his story, adding that an officer was speaking to someone on the telephone saying " we have finished slaughtering the cows".
He said he gave a vivid description of what went on at the shooting range butt he came back to the office 45 minutes later only to be told that the story had been "killed".
Mr. Aryee said he was informed that an order came from Burma Camp that the story should be killed because people would be sentimental about it.
He said he later wrote a bland story, which was carried, adding that he later managed to get his original copy published in the West Africa Magazine.
In an answer to a question from the commissioners about the effect of witnessing the executions had on him, Mr Aryee said he was really disturbed especially with Afrifa's torture before he died adding, "that was very wicked"
He likened the crowd to an ancient Roman arena where mobs did not think about their actions, adding that he saw a lot of blood thirst in Ghanaians, especially the students at the time.
"Journalism sometimes makes you cynical because it exposes you to a whole lot of things " Mr. Aryee added.
The commissioners advised him to see their counsellors since some form of counselling would make him a lot of good.