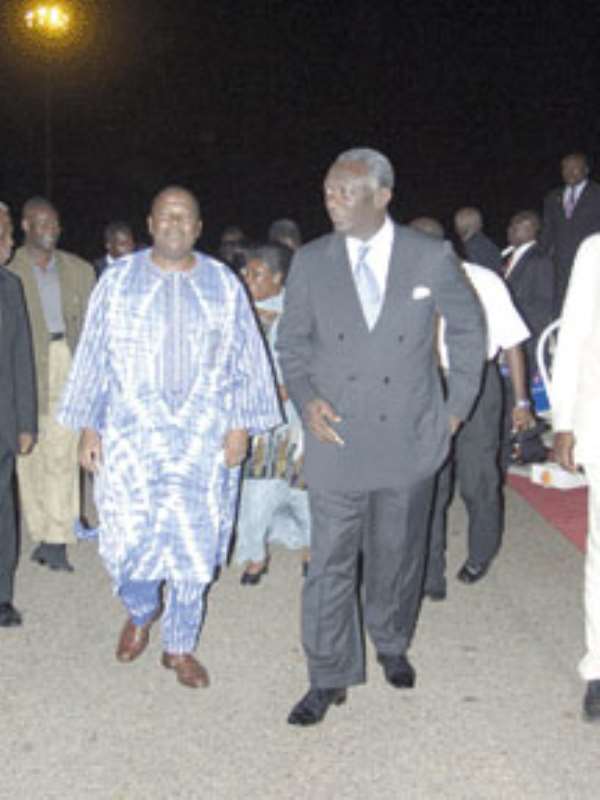 Wa, July 6, GNA - Nana T.K. Serbeh, an Opinion Leader and Leading Member of the New Patriotic Party (NPP) in the Upper West Region has appealed to President John Agyekum Kufuor to discard all negative propaganda against Vice President Alhaji Aliu Mahama and maintain him as his running mate for Election 2004.
In a statement released in Wa on Monday, Nana Serbeh said the Vice-President was discharging his duties creditably to the satisfaction of the majority of Ghanaians and there was no need to drop him. Nana Serbeh said Alhaji Mahama brought good luck to the Party in the last elections and would do so this year.
Nana Serbeh, who is the Chief of the Akan Community in Wa, called on the Party's supporters in the Region to bury their differences and forge a united front to enable them to win all the seats in the Region. Nana Serbeh told the electorate of the Upper West Region to remember, that the United Party, which emanated from the Danquah/Busia Tradition, was a merger of Northern People's Party and the Ashanti Congress and go back to that tradition.
He asked them not to forget that sons of the Region in the persons of late Chief S.D. Dombo; Alhaji B.K. Adama, Jato Kaleo and the present Lawra Chief, Naa Abaifa Karbo were the pillars of the former UP and doyens of Ghana's political development.
"We should demonstrate our solidarity to their cause by recovering every lost political ground in the Region like the Dutch in Holland, who through determination and hard work have reclaimed their land from the sea," he said. 05 July 04