Agyepong & Baako Visited Amedeka (0)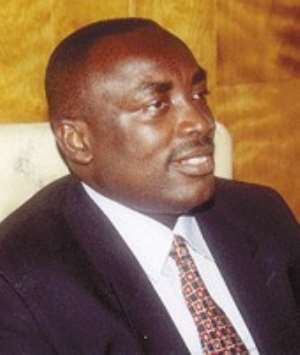 Is it true that...... Kwabena Agyepong, Presidential Spokesperson and son of one of the judges abducted and murdered in 1982, and Kweku Baako Junior, Editor of the 'Crusading Guide' and son of Kofi Baako, Kwame Nkrumah's Minister of Defence, who have both made it their life long ambition to draw former President Rawlings into the conspiracy to murder the judges, actually visited ex-Lance Corporal Amedeka, a self-confessed participant in the abduction and murder of the three High Court Judges and the retired army officer, in exile two years into the administration of the NPP Government, that ex-Corporal Amedeka told them point blank that neither former President Rawlings nor Captain Kojo Tsikata knew anything about the judges' murder, and if this piece of information is true why is it that the two anti-Rawlings, anti-Tsikata crusaders are keeping it a secret the same way that two of them kept the secret about the truth about Kwesi Pratt and the alleged US$125,000 bribery scandal for two years until Gabby Otchere- Darko's "cup runneth over" and he had no choice but to expose Nana Fitz as the author and originator of that despicable and dastardly lie? Is it true that... A novel political party has just triggered off its plan, hatched in 2003, of trying to capture NDC-held constituencies by paying large sums of money to NDC activists in those constituencies, that the programme has just kicked off in the Greater Accra Region with the identification and selection of about 25 contractors through whom the monies will be channeled through the stratagem of inflating their contract payments, that the strategy appears to have paid off in one NDC stronghold in the Accra Metropolis where ¢1 billion has allegedly been invested in the venture and whose Chairman will therefore soon be holding a Press Conference to announce that he has defected and crossed over to that new political party? Is it true that..... The frenetic activity and ill-advised attempts by the NPP to rig the December 2004 elections some of the details of which were given by the NDC's Professor John Evans Atta-Mills at his Press Conference held on Republic Day had been occasioned by a national survey conducted by the National Security Coordinator and the Bureau of National Investigations between 1st May 2004 and 1st June 2004 which showed the NPP trailing far behind the NDC, the summary of the nation-wide results showing as follows:
NPP - 35.1%;
NDC - 49.2%
PNC - 2%
CPP - 1%
GCPP - 0.1%
Undecided - 12.6%,
and is it true that the NPP election strategy team got so furious with the results, attributing it to a deliberate distortion by operatives of the Ghanaian intelligence agencies with NDC sympathies, that they have contracted a pro-Afrikaans South African pollster group to conduct a brand new survey for the NPP whose results they intend to use as part of their electioneering campaign?