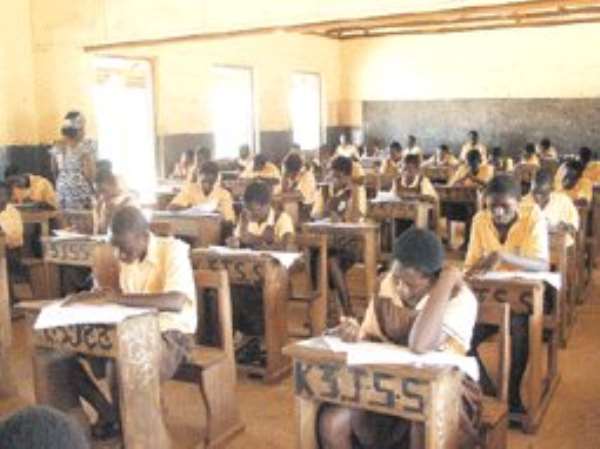 Accra July 5, GNA - Mr Kwadwo Baah-Wiredu, Minister of Education Youth and Sports, on Monday urged candidates writing this year's Senior Secondary School Certificate Examination, which began on Monday to conduct themselves well throughout the examination period. He also advised the candidates to desist from any form of examination malpractice that could result in the cancellation of their results.
Mr Baah-Wiredu, who was touring examination centres, said the cancellation of results made waste, billion of cedis pumped into the exercise as well as the strenuous efforts and contribution made by teachers, adding: "Re-sitting is not a good experience for any student."
The 2004 Senior Secondary School Certificate Examinations, which would end on August 4, is taking place in 522 Senior Secondary Schools. A total of 96,679 candidates made up of 54,514 boys and 42,165 girls are writing the examination throughout the country.
Mr Baah-Wiredu advised the candidates to pay any fee they owed their schools to avoid inconveniences during the examinations. The Minister noted that plans were underway for the establishment of education bank to finance education at all levels in the country. He said monies allocated by the Government to fund education in the country were inadequate and that there was the need to create money to maintain quality education.
Mr Baah-Wiredu said the Social Security and National Insurance Trust Fund (SSNIT) could not generate adequate funds to push education but a bank was noted for creating money that could be rotated and used for a specific purpose.
He said already some strategic Ghanaian investors abroad had expressed interest to assist the Government with the project. Mr Baah-Wiredu said he was optimistic that funds realized from the education bank would help to provide adequate facilities, produce quality teacher as improve the entire educational system in the country. At the St Mary's Senior Secondary School, 419 candidates took part in the examination without any absentee.
Miss Smart Abbey, Headmistress, said her administration would ensure that the school maintained its first position in the Greater Accra Region.
She noted that it was obvious that other schools were putting their houses in order but said: " When there is competition you strategise to beat your competitors."
At Accra High School, the authorities ensured that all the 253 candidates writing the examination had paid all the debts they owed the school before they were allowed to participate in the examination. At Osu and La Presbyterian Secondary Schools, 351 and 201 candidates sat for the examination, respectively.