NACOB Boss And All His Ensigns Must Resign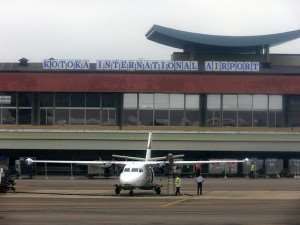 "The fact that 12.5kilos; $5m could pass through scanners at our airport and it will not be detected...is an embarrassment and an indictment on NACOB. It is bad image for Ghana and our fight against peddling narcotic drugs. By now Akwasi Sarpong and all those working under him should have resigned..." asserts Nana Boakye popularly known as Nana Bee, Communications Team Member of the New Patriotic Party (NPP).
This comment follows the arrest of Nayele Ametefe by security operatives at the Heathrow Airport in London for carrying 12.5kg of cocaine.
In a statement to the media, the Narcotics Control Board (NACOB) stated that "One Ms. Nayele Ametefe was arrested on the 10th of November, 2014 through the collaborative effort of Narcotics Control Board (NACOB) and its British partners".
"On the 9th November, 2014, one Ms. Nayele Ametefeh boarded British Airways flight number BA 078 from Accra to London. She was arrested at Heathrow International Airport. She had flown on a first-class ticket using travel miles on British Airways point. The ticket had been purchased on 8th October, 2014 and had been altered three times."
It added: "In her possession she had two (2) suitcases. Only one (1) of the suitcases was checked in (Baggage tag number BA 059801) and nothing of interest was found. In the other suitcase which was believed to be hand carried onto the plane, 10kgs of cocaine was found among her clothing. The cocaine were wrapped in one kilo blocks. In her handbag, she had further two (2) kilos (blocks).
Many, after this news broke, have wondered how Nayele was able to go through Kotoka International Airport without being detected.
Speaking to the issue during a panel discussion on Peace FM's 'Kokrokoo' programme, Tuesday, Nana Bee expressed disappointment at the operations of NACOB and demanded that they resign.
He wondered how NACOB could claim it was a collaborative effort when it (NACOB) only got wind of the story through the media.
He further sought to know why NACOB could wait for another institution or organisation to arrest somebody before saying that they had collaborated with that particular institution.
"I am disappointed in NACOB...this is not the first time, the other time it was wee and then they came out to say it was a collaboration; meanwhile, the person passed through KIA without being seen and then they are arrested somewhere else...it is even a shame...if it was a collaboration, how come they didn't know of the arrest of the lady until four days after? There are more questions than answers...," he told Peace FM.