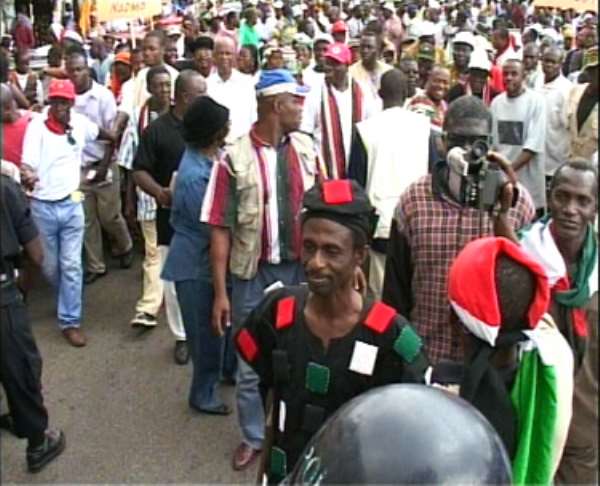 Believe it or not, the indomitable political player in the camp of National Democratic Congress (NDC) and Member of Parliament for Wenchi West in the Brong Ahafo Region has once again accused President Kufuor and his government of clandestine moves to assassinate him.
Mr. Johnson Asiedu Nketiah, aka 'General Mosquito,' has also accused the Inspector General of Police (IGP), Nana Owusu Nsiah, of deliberately conniving with the executive arm of government to execute its alleged plan of assassination.
According to him, after having made public a declaration about a threat on his life with "evidence" following a crash to his car, he had expected the police to plunge into the unpleasant incident to ascertain the truth or otherwise of his claim, but said nothing had been done to that effect.
He indicated that immediately after the occurrence, the police informed him of sending the driver to hospital for treatment but he was later told they could not trace the whereabouts of him (driver) and tagged it as a "deliberate attempt to write off the case" since it confirmed his claim.
The MP, who was speaking in an interview with a private radio station in Kumasi, hinted that when he first made the public pronouncement on the alleged plot of his elimination, the IGP invited him through the Speaker of Parliament and cautioned him to refrain from character defamation of the President, and wondered why the police could not do justice to him but chose to tell "anansesem" (tales) about the case.
"My brother, the police have in their possession the car and its documents intact, why can't they use them to trace, either the driver or the car owner so that we could all know from the one (driver) who actually sent him or whether it was purely accidental?" Asiedu Nketiah questioned.
The Wenchi West MP concluded that he believed the government, together with the police administration, had a diabolical plan to get rid of him at all costs.