We're not hoodwinked by NACOB's claims on cocaine haulage - Prof. Gadzekpo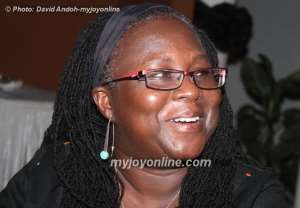 A media professor at the University of Ghana, Audrey Gadzekpo, says claims by NACOB it collaborated with port security at Heathrow leading to the cocaine bust are unconvincing.
She says it is difficult to believe that officials of the Narcotics Control Board allowed 12 kilograms of cocaine to be exported through the Kotoka International Airport in a hand luggage and alerted the British security officials to the arrest of the courier of the drugs in London.
Prof. Gadzekpo was speaking on Joy FM's Super Morning Show on the arrest of the CEO of Accra-based Citi FM, Mr. Samuel Attah-Mensah.
Sammens, as he is popularly called, was invited by operatives of the Bureau of National Investigations over a publication by citifmonline suggesting that a Ghanaian/Austrian, arrested at Heathrow with 12.5kg of cocaine, Nayele Ametefeh, not only possessed a diplomatic passport but was also a member of the governing National Democratic Congress (NDC). He was later released.
Commenting on the development, Prof. Gadzekpo, a media professor at the School of Communication Studies, University of Ghana, said the arrest of, or invitation to, Sammens was an unnecessary distraction.
The media should not allow themselves to be sidetracked from asking the key questions on the cocaine haulage which has exposed lapses in port security at KIA, she stated.
The real question, she said, is, "How is it that that incredible amount of cocaine could have passed through Ghana's security [checks at Kotoka] - which is full of BNI agents - to Heathrow, London, then it is the Heathrow police that pick it up"?
After local media publications on Sunday of the arrest of Ametefeh in London, NACOB issued a statement on Monday signed by its Deputy Executive Secretary, Richard Nii Lante Blankson, saying, "it is worthy to note that Ms. Nayele Ametefe travelled on an Austrian passport number P4187659 and not on Ghanaian Diplomatic passport as being speculated. She also had in her possession an ordinary Ghanaian passport number G0364497 issued on 3 rd  August, 2012."
The statement claimed that Nayele "was arrested on the 10 th  of November, 2014 through the collaborative effort of the Narcotics Control Board (NACOB) and its British partners."
But Prof. Gadzekpo said "It's very difficult to imagine the London police saying that there is a crime that is being committed and they know about it in London but they will wait till the person comes to Ghana  - because the person is enroute to Ghana – so that the Ghanaian authorities apprehend the person. It doesn't make sense to me; I think if you see somebody with a hand luggage full of cocaine in Ghana…you apprehend the person."
Private legal practitioner, Egbert Faibille, supported Prof. Gadzekpo's argument.
He said the security authorities at Kotoka have to answer questions as to how the drugs left the country undetected.
"We cannot continue to pay people at Kotoka for them to open the gates [there] for drug peddlers to export drugs for Ghana's image to be dented," he stated.
Mr. Faibille said it is ridiculous that security officials would allow such a huge quantum of drugs to leave the country and later claim that they collaborated with the London police to effect the arrest.