10 Made In Ghana Innovations: SubaApp In Top 10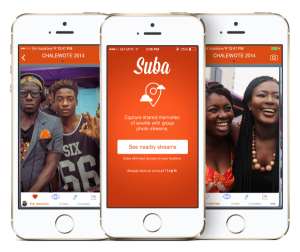 We were thrilled this week to find Suba listed as one of 10 Made in Ghana Innovations (that you should know about) in part 2 of The General Telegraph's Art & Technology feature.
Suba is a location-based iOS, Android mobile and web app that allows everyone at fun social gatherings and events (from concerts, weddings to a day at the beach) to see and share photos together in one central photo stream.
Suba goes beyond the constraints of your Friends List common to other social platforms, and allows multiple people and event attendees to see, save, and share everyone's photos - even the photos of people they aren't already connected to.
Suba was developed by co-founders, Nelson Klutse and Eric Hackman, and is based at the Meltwater Entrepreneurial School of Technology (MEST) Incubator, which provides training, investment and incubation to aspiring tech entrepreneurs in Ghana and Nigeria.
The General Telegraph's 10 Made in Ghana Innovations list also includes Ebola Ghana Alert, Nasara Mobile, and Saya (a former MEST Incubator startup).
The Suba web app was recently released to add another convenient feature to see, share and relive your favorite event moments with Suba!
Suba is currently available as a free app in the iOS App Store and Google Play Store. http://subaapp.com/download
And on the web http://subaapp.com