Protect Data From Wrong Hands…Says Data Protection Commission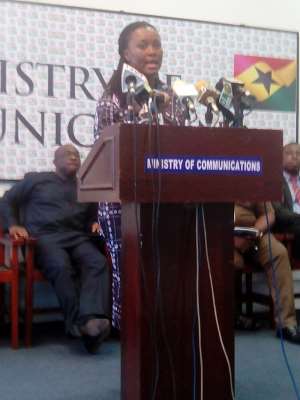 The Ministry of Communication has indicated that information and other related issues bordering on the protection of personal data can be guaranteed with the introduction of the Data Protection Act, 2012 (Act 843).
The Deputy Ministry of Communication, Hon. Ato Sarpong has indicated that data in wrong hands may be used to harm, destroy and obstruct peace.
Hon. Ato Sarpong said this at the meet the press series in Accra when he indicated that his outfit has taken steps to protect and promote the interest and privacy of Ghanaians.
He added that our ability to seclude ourselves or share our information selectively is under threat.
"Do we know where such information goes? Are privy to who has access to such information? Do we know what our information is used for?," he noted.
The Deputy Minister posited that it is imperative that they provide for strong data rights for all inorder to protect us against abuses by those who violate our privacy.
The Data Protection Act which was passed by parliament in 2012, shall effectively be used as a tool to protect the privacy of the individual and personal data by regulating the processing of personal information.
According to him, the implementing agency, Data Protection Commission (DPC) operating under the Ministry shall have the oversight responsibility to ensure that personal data and information regarding citizens are protected under the law.
The Data Protection Commission, as an independent body shall keep and maintain the Data Protection Register.
The Commission shall undertake investigations of complains under the Act and determine such complains in a manner the Commission considers fair.
Hon. Ato Sarpong noted that the Ministry was guided by the need to ensure fairness, legality of data captured and maintained, purpose for keeping someone data, accountability for it, individual rights and protocols for capturing and accessing someone's data.
This, he said, government has sanctioned several strategic projects including a 780km eastern corridor fibre project nearing completion this year.
The Deputy Communication Minister mentioned the $8.8m BPO center at PWD warehouse, the $97m e-transform project and the introduction of new licenses.
The Ag Executive Director of Data Protection Commission, Mrs. Teki Akuetteh Falconer has urged all accredited agencies that collect citizen's data and information to register with the Commission for the relevance of its monitoring and tracking systems.