Presidential oath saga: Lawyers descend on GBA president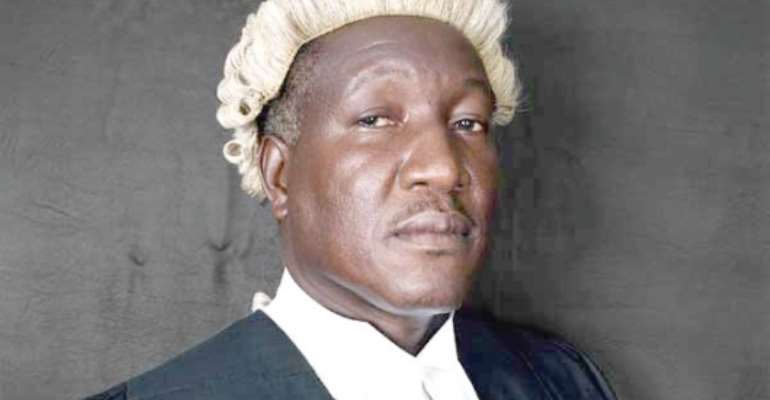 President of the Ghana Bar Association has incurred the displeasure of some lawyers for imposing his personal position on members of the Bar.
Contributing to the raging saga of Speaker of Parliament's refusal to swear the presidential oath for a second time, Nene Amegatcher said the Speaker's decision was right.
It would be recalled that Speaker of Parliament Edward Doe Adjaho refused on two occasions to swear an oath to act as president in the absence of president Mahama and his vice. His justification is that, his previous oath is still valid.
On the sidelines of the Annual Chief Justice's Forum on Friday, the GBA President defended that decision, insisting the Speaker was right in declining the offer to be sworn into office to act as president.
"In our view the Speaker did not err and the Chief Justice was right when she refused to swear in the Speaker when the Speaker decided not to take the oath" the GBA president told Joy News' Beatrice Adu.
But some members of the Association disagree with his position.
Dr. Opoku Adusei said the Oaths Act 1972 which the Bar president referred to is inferior to the 1992 Constitution, which states in Article 60 (12) that the Speaker shall, before commencing to perform the functions of the President take and subscribe the oath set out in relation to the office of President.
According to lawyer Kwame Akuffo, he "totally disagrees" with Nene Amegatcher, stressing "the president got it wrong".
He said since he joined the Bar, they have been concerned about formulating policies and speaking on matters on national policies, "but I am not certain that the Bar Association's President will take an intellectual position and that will becomes the position of every member of the Association".
He added, "In so far as the Constitution has made specific provisions for an oath that is to be sworn by a party, there is no need to step out of the Constitution and go down to a lower law, the Oaths Act.
"Above all, the origins of the lower act (Oaths Act) originated in the time of this country when the constitutional system had been overthrown. It was passed during Acheampong's era. So this Oaths Act is not applicable to the interpretation of the Constitution when it comes to the types of oaths the president should take."
Mr. Akuffo also advised the president of the Ghana Bar Association against acting as the spokesperson of the Chief Justice in the face of the Judicial Service's silence on whether it was the Chief Justice who advised against the swearing in. Story by Ghana | Myjoyonline.com| Isaac Essel | [email protected] | twitter @isaacessel