Springbok boss Meyer 'ashamed' of Ireland defeat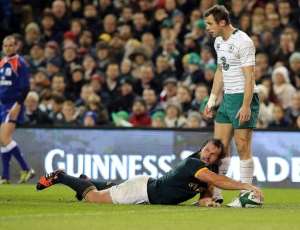 South Africa's hooker Bismarck du Plessis fails to score a try during a test match against Ireland at Aviva Stadium in Dublin, November 8, 2014. By Paul Faith (AFP/File)
London (AFP) - South Africa coach Heyneke Meyer said Wednesday he was "ashamed" by the manner of the team's tour-opening defeat by Ireland and promised they wouldn't lack for motivation against England this weekend.
The Springboks, fresh from ending world champions New Zealand's near two-year unbeaten run, suffered a shock 29-15 loss in Dublin last weekend, with their kicking game in particular exposed by the Irish.
"You are going to lose games, even if you're South Africa," Meyer said Wednesday at the squad's London hotel after announcing his team to play England at Twickenham on Saturday.
"Ireland was one of those strange games -- we won everything except on the scoreboard," he added.
"The result was a wake-up call for me as a coach and for the team as well.
"There's no shame in losing, but I was ashamed by our performance. We have to learn from that. We can't make the same mistakes again.
"The one thing we are not good at is our kicking game and the contestables. England and New Zealand are very good at that.
"We have been the best in the world at that, but as a nation we have fallen behind," Meyer explained.
Meyer has made five changes to the starting XV but retained the same matchday 23 that played in Dublin and significantly dropped both half-backs Francois Hougaard and fly-half Handre Pollard to the bench.
Wing JP Pietersen, fly-half Pat Lambie, scrum-half Cobus Reinach, flanker Schalk Burger and hooker Adriaan Strauss have all been promoted to the starting XV.
Meanwhile Meyer became the latest coach to dismiss all suggestions of gaining a psychological advantage by winning at Twickenham less than a year out from the 2015 World Cup.
England's headquarters ground will be the venue for all but two quarter-finals come the knockout phase of next year's global showpiece competition.
However, New Zealand coach Steve Hansen -- speaking after the All Blacks' 24-21 win over England at Twickenham last Saturday -- labelled the idea that the result had implications for the World Cup as a "load of baloney".
- 'Almost better to lose' -
And Meyer went even further Wednesday in downplaying the long-term importance of the fixture.
"I truly believe what happens now will not have a big influence on the World Cup," he said.
"In a sense it's almost better if you lose as your guys will then know they will have to step it up.
"I'm not saying we should lose of course, but there are so many nuances," he stressed.
"You can't say because you have won at Twickenham you now have the edge next time because you then get complacent. The World Cup is a different thing.
"If you look at 2007 when South Africa won the World Cup, they lost a lot of games that year and that didn't make a huge difference."
South Africa haven't lost to England in 11 matches, with their last defeat a 23-21 reverse at Twickenham in 2006.
England, for historic reasons that apply in many sports, remain the team all others want to beat and Meyer said his Springboks would not lack for motivation on Saturday.
"You don't have to motivate the guys against England. They know it's a huge challenge and they know there's an unbelievable heritage going back so many years.
"This week we don't have to say anything -- we know the players will be motivated. It will be an unbelievable atmosphere, a real pressure cooker."
England coach Stuart Lancaster is due to name his side on Thursday.