Uganda must avoid failure to win on the trot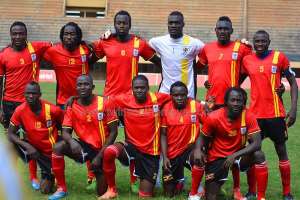 They must beat Ghana and Guinea to be sure of progress and if they do, it will be only the third time Uganda have registered two back-to-back wins since group stages were introduced in the 1992 qualification.Then – with the back-to-back games all in Kampala, Uganda beat DR Congo (then Zaire) 2-1 on September 1, 1990 before edging Tanzania 3-2 in April the following year.In the 2012 qualification, Uganda beat Guinea Bissau away and followed it with a 2-0 victory over the West Africans at Namboole.Although on the aforementioned occasions the Cranes didn't qualify, two victories this time will see them progress. But what a challenge! "I think we can win them," defender Simeon Masaba, who was in the Cranes team that beat Guinea Bissau home and away, told Daily Monitor yesterday.
"But it is the players to take more responsibility, added Masaba. "Yes the coach will do his job but he can only be on the bench. Of course these two games against Ghana, who are leading the table (with eight points and third-placed Uganda on four), and Guinea away are much tougher than Guinea Bissau and that is where players' concentration will be key."Elsewhere, the Black Stars, who will be captained by Andre Ayew in Gyan Asamoah's absence, are expected in the country tomorrow evening.
Cranes' back-to-back wins since 1990  1992 Afcon qualifiers September 1, 1990: Uganda 2–1 Zaire April 14, 1991: Uganda 3–2 Tanzania
2012 Afcon qualifiers March 26, 2011: G. Bissau 0-1 Uganda June 4 2011: Uganda 2-0 G. Bissau
RESULTS SHOWING UGANDA'S INEFFICIENCY IN BACK-TO-BACK GAMES:  2000 Afcon qualifiers October 2 1998: Uganda 2–1 Algeria January 24 1999: Liberia 2–0 Uganda February 27 1999: Tunisia 6–0 Uganda April 10 1999: Uganda 0–2 Tunisia June 5 1999: Uganda 1–0 Liberia June 20 1999: Algeria 2–0 Uganda 2002 Afcon qualifiers October 8 2000: Togo 3–0 Uganda January 13 2001: Uganda 1–1 Senegal March 24 2001: Senegal 3–0 Uganda June 2 2001: Uganda 0-3 Togo
2004 Afcon qualifiers September 7 2002: Uganda 1–0 Ghana March 29 2003: Rwanda 0–0 Uganda June 22 2003: Ghana 1–1 Uganda
2006 Afcon/WC qualifiers June 6 2004: Uganda 1–0 DR Congo June 19 2004: Cape Verde 1–0 Uganda July 3 2004: Uganda 1–1 Ghana September 4 2004: B. Faso 2–0 Uganda October 10 2004: Uganda 0–1 S. Africa March 26 2005: S. Africa 2–1 Uganda June 5 2005: DR Congo 4–0 Uganda 18 June 2005: Uganda 1–0 C. Verde September 4 2005: Ghana 2–0 Uganda October 8 2005: Uganda 2–2 B. Faso [email protected]