Amoateng passport owner pops up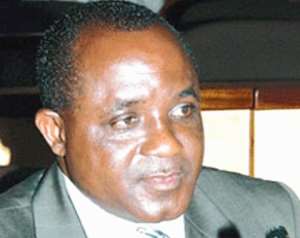 Barbara Inkum, supposed owner of the passport said to have been used by Eric Amoateng, former Member of Parlia­ment (MP) for Nkoranza North, to travel to Ghana from the United States, yesterday appeared in court.
Mr. Amoateng is on trial for alleged fraudulent acquisition of passport.
Barbara Inkum, a 25-year-old lady, told an Accra circuit judge, Mrs. Ellen Vivian Amoah, that she had never seen the passport that was supposed to be hers because after giving her particulars to a man called Frank to process the document for her, she never saw him again.
In her examination in-chief, led by DSP Aidan Dery, Barbara said between 2008 and 2009 she wanted to acquire a passport and so her elder sister advised that she should get in touch with one cousin of theirs work­ing with the Immigration Service.
According to her, she was informed that her cousin was at the Aflao Border so a gentleman called Kwaku Obeng introduced someone called Frank to her and her sister to assist them with the processes for the passport acquisition.
The witness said she was asked to give all her particulars to Frank, including her birth certificate, togeth­er with GH₵50. When the prosecut­ing officer gave her a passport form with a passport-size photograph to have a look at, she identified the pho­tograph on it as hers.
In addition, she mentioned the number on the passport as H237080.
She explained that after she had given the forms and paid the money, she waited for a response from Frank and had lost his contact number as well but had since not set eyes on him.
Under cross-examination by Charles Puozing, counsel for Amoateng, the witness said she did not know who wrote the passport number, neither did she even get to see the passport with the number.
She has been discharged by the court.
The case has been adjourned to November 13,2014.
Ibrahim Issaka Lan-Gani, Assis­tant Commissioner of Immigration at the Kotoka International Airport (KIA), is the first witness in the case; and has testified that before the intro­duction of biometric passport, a per­son needed not be present to have the passport done for him.
He also stated that he would not know if the former MP could tell whether or not the passport was faked.
He said it could be the case that accused person expressed surprise when he was informed that the passport was fake because he did not know it was.
Amoateng, a teacher and farmer, had spent over seven years in the United  States of America (USA) where he was jailed  in connection with nacortic-related offences .