Senegal's leader hopeful of Burkina transition pact Tuesday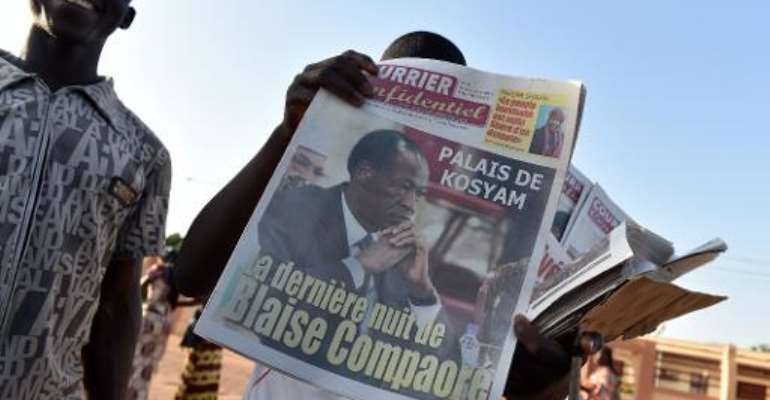 Ouagadougou (AFP) - Senegalese President Macky Sall voiced hope that Burkina Faso's army and civil groups would Tuesday approve a framework for a transitional government after the ouster of the country's longserving ruler.
Sall, an emissary of the west African regional bloc ECOWAS, was in the Burkina Faso capital Ouagadougou to try and facilitate a transition plan.
The army, which took power after president Blaise Compaore's exit following a popular uprising in response to his bid to extend his 27-year rule, is under heavy international pressure to quickly hand over to a civilian government.
The military has installed Lieutenant-Colonel Isaac Zida, the 49-year-old second-in-command of the presidential guard, as the country's new leader.
The United States has called for a democratic transition while France and the European Union have pressed for free elections to be held quickly. The African Union has warned of sanctions if the handover is not effected in two weeks.
"I am certain that after discussions with Lieutenant Colonel Zida and the other players (from civil society), we will certainly be able to approve the charter" for the transition, the Senegalese president said.
"Once it is approved, the rest will follow suit quickly," he said.
The opposition and civil society groups agreed on a blueprint for transition that provides for new elections in a year. The deal now has to be negotiated with the military.
The blueprint was handed over to the military on Monday, but a range of sensitive questions must still be resolved, including who will serve as interim president and the allocation of seats in the interim parliament
The current blueprint provides for elections in November 2015, with an interim civilian president, a 25-member government and a transitional parliament with 90 seats.
A major question is who might become the transitional president in the deeply poor, landlocked and cotton-producing nation of some 17 million people, many of whom are subsistence farmers.