UNDP Hosts Experts' Meeting On Cash Payments To Ebola Workers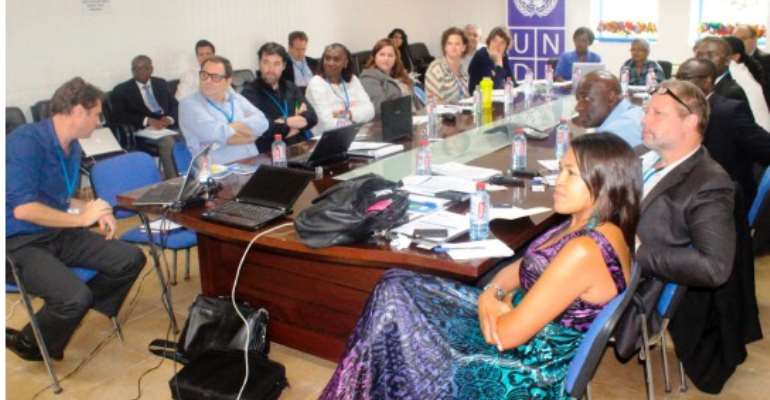 Under the auspices of the United Nations Mission on Ebola Emergency Response (UNMEER), the UN and technical experts have met to explore viable options for payment to Ebola workers in the three countries worst affected by the Ebola Viral Disease.
There are more than 156,000 paid Ebola workers in Liberia, Sierra Leone and Guinea alone, involved in variety of actions that help limit and prevent the spread of the disease.
"The workers provide health care to Ebola patients, trace the disease, bury dead victims, cook for and feed Ebola victims. These are the real heroes, without them we cannot be successful. They risk their lives doing this and they have to be paid so they can feed their families", noted Erika Joergensen, Director of Essential Services, UNMEER.
The meeting hosted by the UNDP brought together relevant UN agencies, donors and partners working directly on Ebola response, as well as experts of financial systems and physical infrastructure in each of the three countries.
In his opening remarks, the UNDP Country Director, Mr. Dominic Sam stressed that the cash transfers is an important enabler that provides the backbone for the implementation of the key components of the UN operational framework response to the Ebola pandemic.
"We cannot afford to fail, the whole world is watching and we need to harness all that is available to succeed in the cash transfer. No expertise should be left behind. We need to coordinate and leverage the partnerships with the private sector, civil society, NGOs, UN agencies and development partners including the African Development Bank in a way that efficiently ensures cash transfer to the front line Ebola workers", he emphasized.
Ebola does not know any borders, it travels and exports anywhere. The UN leads global efforts to stop the disease and to prevent it from spreading through the UNMEER. The foremost line activities pursued by stakeholders include effective management of Ebola cases at health centres, contact tracing, community engagement to improve social mobilization and safe burials.
Cash payment to Ebola workers is important for these activities to be achieved. This, coupled with the need for logistics, training of staff, personnel (volunteers) and information management, can help stakeholders to make informed decisions and develop effective strategies to deal with the crisis.
"It is not that presently Ebola workers don't get paid, but we want to avoid gaps in the payment systems such that at no point in time would the workers need to go on strike over payments. We will be in trouble if that should happen", stressed Erika.
In recognition of this potential risks, UNDP has taken the leadership on behalf of the UN in reaching out, working very closely with partners to ensure effective cash payment systems that are also complete.