Stop AFAG Or We STOP Them--NDC Group Threatens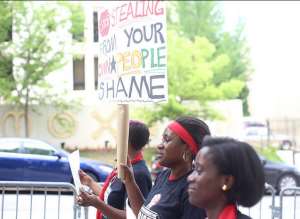 We have observed keenly a grand scheme by the NPP's AFAG to destabilize the nation and we wish to draw the attention of the general public and the security agencies to this move that can cause the NDC the presidency.
1. Currently, President Mahama is out of town and with Rt. Hon. Doe Adjaho's refusal to get sworn in and act as President leaves a big vacuum that can easily lead to something unforeseen in Ghana. As to why the speaker of the August house refused to step in feeds into rumor that some MPs are not happy with Mahama's style of governance, especially in the areas of his aggressive fight over corruption and will want him out of the scene.
2. The NPP, having realized the positive achievement of President Mahama, would want to destabilize the minds of Ghanaians thus the call on AFAG to hit the streets. We have heard leading members of the Party; attest to the fact that, Paul Afoko and Kwabena Agyepong are fully sponsoring this demonstration. We want the Police to be on the look out for these leaders and deal with them when they hit the streets.
3. The silence of our national executives on the reasons for this demonstration is worrying and they better find their voices. It seems the mosquito can longer stink and it is better we sit up as young liberals of the NDC before we are caught on the wrong side. Our officers are full. They no longer care about the NDC and will allow the NPP to take over
We are by this statement cautioning AFAG and its allies to stop the demonstration or face a counter one. We shall not allow any Ghanaian to demonstrate against the NDC government that is aggressively fighting corruption.
God bless NDC
God bless Ghana

Ey3 Zu! Ey3 Za!

Ibrahim Zakaria- coordinator
Jacob Appiah- Spokesperson/ secretary-0273060184