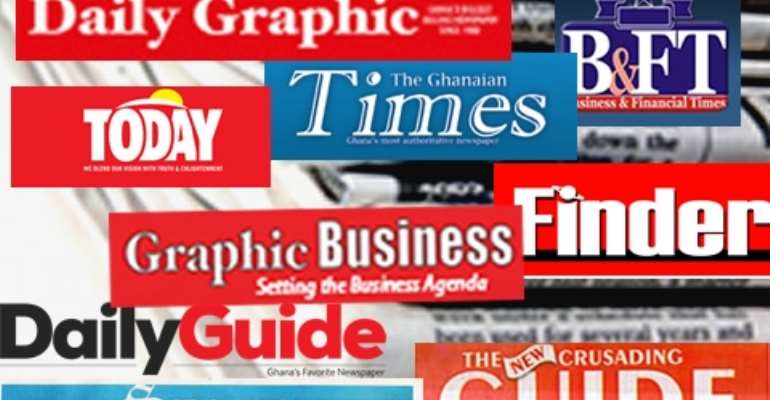 Graphic
FIRST GAS FLOWS AT ATUABO – DESPITE RED FLAG BY TWO BODIES
Natural gas started flowing from the Jubilee Fields to the Atuabo Gas Processing Plant yesterday, contrary to an advice given by the Energy Commission (EC).
PRESIDENT MAHAMA MEETS POPE FRANCIS
Pope Francis has lauded President John Dramani Mahama for championing a good image of Africa.
LOCAL FURNITURE PRODUCERS UNHAPPY WITH PARLIAMENT
The Woodworkers Association of Ghana, an amalgamation of local woodwork artisans and factories, has condemned Parliament's preference for Chinese furniture over its products.
GNPC DEFENDS $700M LOAN
The Ghana National Petroleum Corporation (GNPC) has defended its action to secure $700 million from the international market to enhance its operations.
CASH AND CARRY IN FULL FORCE - AS GOVERNMENT OWES SERVICE PROVIDERS GH₵79M
Subscribers of the National Health Insurance Scheme (NHIS) now have to pay for essential drugs needed in times of emergency because of government's indebtedness to service providers
LADMA ACTION FORCES RESTAURANT TO CLOSE DOWN
The livelihood of over 40 workers and their dependents is in danger as Churcheese Restaurant, where they work, has been closed down due to harassment from the LA Dade-Kotopon Municipal Assembly (LaDMA)
LPG EXPLOSIONS ACCOUNT FOR 33% OF BURNS VICTIMS IN GHANA
Dr Opoku Ware Ampomah, Director, Reconstructive Plastic Surgery and Burns Centre, has indicated that Liquefied Petroleum Gas (LPG) explosions account for 33% of all burns cases reported in the country every year.
GH₵90M OIL CASH MISSING
It has been revealed that close to GH₵90 million of oil cash appears to be unaccounted for by the Ministry of Finance and Economic Planning (MoFEP}.
OKYEHENE GOES WILD OVER ROADS
The Okyehene Osagyefo Amoatia Ofori Panin, has stated that he would mobilise resources to construct the deplorable roads in the Eastern Region, which the central government has failed to undertake.
WOYOME MEN SCARED ME – STATE ATTORNEY
Mrs Yvonne Oboubisa, the chief of state attorney in the trial of Alfred Agbesi Woyome, the NDC financier accused of fraudulently receiving GH₵51.28 million judgement debt, yesterday complained about being intimidated by sympathisers of the accused person.
'DUMSOR' POSTPONES WOYOME TRIAL - JUDGE SCREAMS "I'M BAKING, CAN'T GO AHEAD"
The cross examination of embattled businessman, Alfred Agbesi Woyome was yesterday brought to pre-mature end due to power cut in the court room .
DON'T SELL YOUR VOTES – MANLY SPAIN TELLS NDC DELEGATES
The lead contender for the chairmanship post in the Greater Acra Regional NDC election, Henry Ekow Manly-Spain has cautioned delegates ahead of Saturday's Congress not to sell their votes but rather vote for candidates who are dedicated and human-cnetred.
OKYEHENE TO CONSTRACT ABUAKWA ROADS
The Okyehene, Osagyefo Amoatia Ofori Panyin has disclosed that the Akyem Abuakwa traditional council will together with its investors construct all deplorable roads in the traditional area and erect tollbooths to collect tolls to repay monies invested in the project since the central government is reluctant to construct the roads.
NPRA CRACKS WHIP ON EMPLOYERS – WILL FORCIBLY ASSIGN SCHEMES
The NPRA will nest year place employers without schemes under one of the 23 licensed corporate trustees for a temporary period.
FOREIGN INVESTORS ANXIOUS OVER 2016
Fears of overspending the large capital inflows before the 2016 general elections in Ghana is causing panic in the international capital markets forcing some investors to consider selling the country's Eurobond.
CRUDE OIL IMPORTS UP AS GAS SUPPLY REMAINS ERRATIC
Crude oil purchases by the VRA for thermal power generation has increased significantly, on the back of erratic gas supply from Nigeria.
APOLOGY OF A ROAD
With many working people in Accra moving their families to live beyond the toll booth in places like Malejor, Oyibi, Bawaleshie, Dodowa and the like, the Ghana Highway Authority makes a lot of money on the road.