Rwanda prayer group gets five years for sedition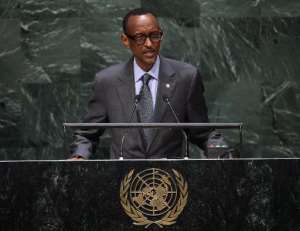 Rwanda President Paul Kagame, seen here at the 69th session of the United Nations General Assembly, was the target of a possible divine uprising by a prayer group jailed on Monday. By Don Emmert (AFP/File)
Kigali (AFP) - Eight members of a Rwandan prayer group were jailed for five years on Monday for trying to start a divine uprising against President Paul Kagame, their lawyer said.
The Catholic group, made up of nine women and a man, were arrested in July last year after their leader predicted that misfortune will befall the allegedly sinful, small central African nation.
"Eight of the ten were condemned for inciting an uprising," their lawyer, Napoleon Nsanzimana, told AFP.
The accused explained in court that their leader, Chantal Mutamba, had a divine revelation that ordered Rwandans to stop their sinful ways, including adultery and abortion. Abortion is legal in Rwanda in certain circumstances.
But they insisted they only approached Kagame's residence by accident, denying prosecution charges that they wanted to deliver a message to Kagame telling him of the imminent overthrow of his "dictatorial" regime.
Prayer group leader Mutamba, however, was acquitted. The defence explained that the court "recognised that she had psychological problems and wasn't her normal self that day."
"The other accused should have been acquitted, as well," the defence lawyer said.
"They only made the mistake of following her and believing in a divine revelation, but they didn't intend to commit a crime," he added.