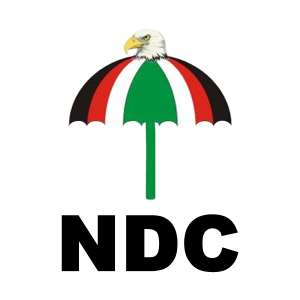 The black Nissan Patrol for the Talensi DCE
LINUS NJINOLA, National Democratic Congress (NDC) activist who recently hauled the party to court over its regional elections, has claimed that some party gurus tried to bribe him to give up his move.
He said some top NDC members who were not pleased about his decision to drag the party to court, made several offers to him, including sponsoring his education abroad.
Linus added that he was also promised a flashy car and a colossal amount of money, adding that there was immense pressure on him but he stood his grounds because he wanted the right thing to be done in the party.
According to him, he loves the NDC so much that he decided to turn his back to the numerous mouthwatering packages that were tabled before him, confessing that it was not easy for him.
Case
Linus dragged the NDC to court over new election guidelines which seem to discriminate against some party members who desired to contest for various positions.
He was also in court because he said the executives at the regional and the national levels – most of who have intentions of seeking re-elections – had overstayed their tenures.
In the end the court saw logic in Linus' concerns as it ordered the leadership of the ruling party to meet with him and find lasting solutions to the issues raised.
Death Threats
Talking about the court case on Boss Fm, Linus, who is now seen by most of the NDC members as a hero, disclosed shockingly that at a point he even thought that he would be murdered.
He alleged that several faceless people who claimed to be staunch NDC members, called him on his mobile phone, threatening to kill him if he continued with the court case.
He said he was cock sure that he was on the right path and so he parried all those death threats and still fought the case in court which he said had helped save the NDC from troubles.
Spiritual
Linus said he also received several wild attacks on is life in the spiritual realm but the God whom he serves faithfully protected him. 'Spiritually things were not easy for me but God saved me,' he underscored.
Denial
He flatly denied speculations that some top members of the opposition New Patriotic Party (NPP) sponsored his legal battle just to tarnish the image of the ruling party.
Linus stated that he is a staunch NDC member therefore he could not condone any move that would create confusion in his own party.
Support
He disclosed that about 80 percent of his support came from the NDC's grassroots members with the remaining 20 percent coming from some leading members of the NDC who wanted fairness in the party.
He said he was happy about the outcome of the matter, adding that but for his decision, the NDC would have suffered more court actions in due course.
FROM I.F. Joe Awuah Jnr., Kumasi