DPS International to represent Ghana at the World Scholar's Cup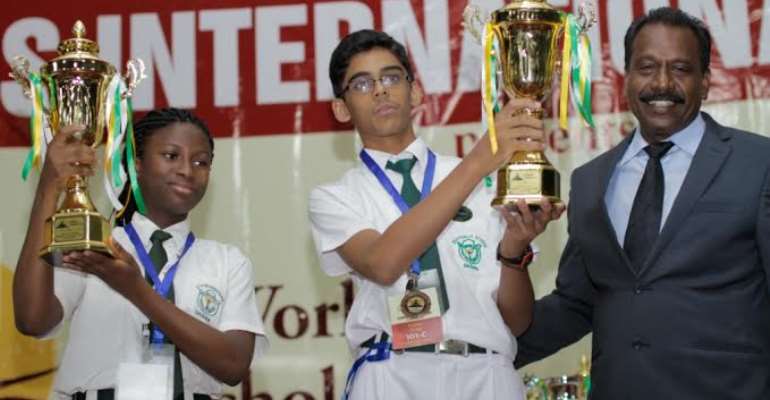 Eighteen brilliant students of the Delhi Public School (DPS) International have qualified to compete against more than fifty other schools worldwide in the Global Round of the World Scholar's Cup in Kuala Lumpur, Malaysia.
The World Scholar's Cup which was founded by Daniel Berdichevsky in 2006 is an international team academic tournament which provides an opportunity for students to discover and develop their intellectual skills.
At the global level participants get to interact and share experiences with students from different countries while contributing ideas on development issues.
The rigorous exercise involves teams of three, who compete in Team Debates, Collaborative Writing, Scholar's Challenge and a Scholar's Bowl. The team with the most points after the various rounds is adjudged the winner.
Mr. Nathan Levin, Associate Programme Director of the World Scholar's Cup was excited about the introduction of the programme in Ghana.
"It's exciting to be here, we have events around the world in more than 30 countries and this means that we will be able to bring students from a new location [Ghana] into this global community."
The competition is open to every school but only DPS International participated and Mr. Levin hopes "next year we will like to see more schools from Accra, Cape Coast and all over Ghana".
He explained: "There aren't many trophies that are given to students who excel in academics and we want to encourage students to embrace knowledge and learning. It's also about creating a global community for students to interact with their peers from all over the world".
The Director of DPS International and CEO of B5 Plus, Mr. Mukesh Thakwani said he was proud to be associated with the World Scholar's Cup programme.
He underscored the importance of such programmes, which he said exposes students to thought provoking challenges that help them to be exceptional in any field.
"This will not only improve the vocabulary and efficiency of students but will also build the students up in public speaking and be able to debate with anyone on any topic at the international level".
"We believe that every participant is a winner and we encourage students to participate in lots of extracurricular activities to help them discover their talents and make them standout," he added.
On his part, the Principal of DPS International, Mr. David Raj was pleased with collaborations to get the competition instituted in Ghana. He reiterated that such competitions enlightens children and prepares them to excel in any endeavour they find themselves in the future.
The Principal said they build students to have a strong mentality and was optimistic that the students who have qualified for the Global Round will excel beyond expectations.
He said their training approach paid off in the National Spelling Bee competition last year which saw DPS emerging as winners.
Mr. Raj envisions DPS to be the best international school in Ghana as they boast of well trained teachers and world class facilities that aim to provide holistic grooming of children to be global leaders.