November 7, 2014
|
Diaspora Diaspora (Italy)
NDC Italy Chapter Welcomes Prez Mahama To Vatican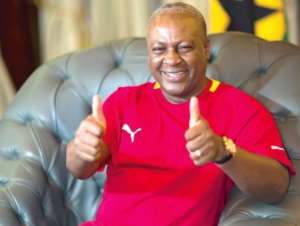 We members of the National Democratic Congress, Modena Branch , on behalf of the Chapter ,welcome His Excellency President Mahama of the Republic of Ghana to Italy as scheduled in his Itinerary.
Your visit shall be a historic one and a great honour to the people of Ghana living here in Italy and above all the members of the great party N.D.C .
We want to register our support to the President and the Government of the N.D.C in all his efforts to push forward the better Ghana Agenda currently in progress .We agree with the fact that the N.D.C Government resumed office on a rough footing with many huddles on her parth but we in Italy know that economic recession isn't only a challenge to Ghana but to other developed countries of which Italy is not an exception .
We ,therefore appreciate the efforts of the Government in all aspects to fix the economy of Ghana.Your efforts have started yielding fruitful results.True Ghanaians are watching your handiworks and we encourage you to be more focussed on your Better Ghana Agenda.
Waiting patiently to welcome you ,wishing your presence in Italy shall be a fruitful one and beneficial to the good people of Ghana.
God bless President Mahama,God bless the N.D.C Government and God Ghana. EYE ZU
Secretary: F. Darrah
Chairman : Ibrahim S.