Did Ayariga's Cough Miss Killing Him?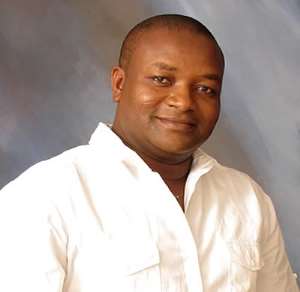 For some people we only pray that their ailment takes them to their grave and afford them safe passage to the underworld so as to be in harmony with themselves and their ancestors. By this, we anticipate that their death will free us of their embarrassment, cynicism and mediocrity.
Hassan Ayariga falls in this category. The PNC 2012 presidential candidate is one politician whose actions never cease to amusingly torment the masses and attract the most humiliating and ridiculous comments and opinions. For his hilarious credentials we all know and so I will not dwell much on that.
He is even on record to have gained popularity as 'Ghana's most political comedian' and one funnier than Kofi Wayo and Dan Lartey of Blessed Memory.
Let not forget, the late Dan Lartey has a successor whose soberness and looks are enough laughter. For Kofi Wayo, the less we talk of him the better. Sometimes I wonder if he thinks Ghana is one of his 'ghettos' or that he is merely taking us for a joke?
Still with Hassan Ayariga I think Akua Donkor is even better off.
Hassan Ayariga is the only man on earth known to call His Royal Majesty, the Asantehene, as Otumfuo Osei Tufffour. He even has a cough mixture to his name. His antics does not only amuse the ordinarily but the most prominent of personalities. If you would recall, during the 2012 Kumasi Peace Declaration, Hassan was the only man to have caused the laughter of all the high profile personalities. The former president, Jerry John Rawlings even mimicked him at a point in time.
Some even think he is the only one to have 'Ayarigated the 2012 elections'. To others, the party that unleashed Ayariga on Ghanaians is as clueless, ignorant, and offensive as the candidate himself. Up till now I have this quote of him which I think is adorable. Paraphrasing President Obama, Hassan Ayariga replaced Obama's "yes we can," with "yes we can't but we are ready,"
Disgusting!!!! Isn't it?
And when he told Ghanaians he was suffering from severe cough prior to the second round of the 2012 IEA presidential debate; to which he carried to the debate to the extend he could still be heard coughing even when Nana Addo was on the floor, I only prayed for his death.
Yes I prayed his death and speedy 'unrecovery'. And for those of you who think I was that callous, I refer you to the circumstances leading to the death of King Herod and the men who made mockery of Elisha's agedness.
Get me no wrong. Like Orson Scott Card, "in my view, suicide is not really a wish for life to end.'
What is it then?'
It is the only way a powerless person can find to make everybody else look away from his shame. The wish is not to die, but to hide."
So by my prayers, I was only finding a hideout for Hassan Ayariga and an avenue to end his political sycophancy.
With me hearing and reading a little of him lately, I thought my prayer has been answered, only for me to read a story on leadership change within the PNC which is attributed to the cough man
At a point I thought the call was fair enough because he may be probably professing his own substitution. But reading further I realised he still has his ambition solid. What insolence, Hassan?
Did the cough miss killing you or that my prayers never got answered? Or is it that the 'Ayaricough' was too strong to withstand your hypocritically 'propagandous' coughs?
Whatever it may be, just as he is calling on the party to elect the right leaders, PNC must not relent to show Hassan the exit to relieve them of any further embarrassment and thereby reserve some political dignity for the country.
If you ask me I think the party has suffered enough and Hassan should be the least tolerated.