More Gari For SHS And School Feeding Proramme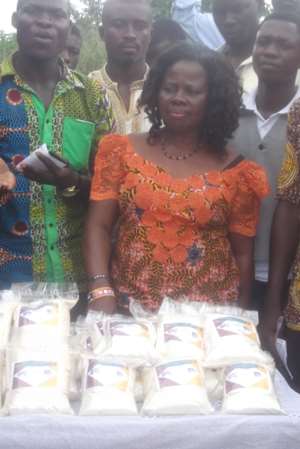 The Bosomtwi district assembly will by January 2016 start supplying quantity of fortified Gari for senior high schools and the school feeding program in the district, Ashanti region and beyond from the new Gari processing factory set at Piase a community in the constituency.
The Gari processing project founded by Christo Asafo church at Piase in collaboration with Kumasi Institute of Tropical Agriculture (KITA) was commission to by the DCE of bosomtwi district Hon. Veronica Antwi Adjei.
The project was aim for enhancing the livelihood of people at the area through community development, as well as equipping the youth to secure jobs.
The Gari project which was started early this year, has gained tremendous growth in development through it modern processing method, that combined uses of soyabeans and magaring which adds additional nutritionals values in order to reduce the carbohydrate content in cassava products.
The Hon.DCE speaking at the commissioning said, it is a good examples set by the christo asafo church that need to be followed by all churches in the country by paving the path for job creation to support rural and country development.
She said, it is time graduate start putting what they learn at school in motion to create job atmosphere for themselves and others. According to her, this will help reduce the unemployment rate in the country and calls off issues of unemployed graduate association in the country.
She stated that, government institutions can not afford to employ all graduates from tertiary institutions therefore, tapping idea of creating self jobs will do.
Hon. Veronica further stated that, her office will engage in the noble initiatives to help produced more quantity of Gari to SHS and the school feeding program in the constituency, Ashanti region and other regions. She donates two packets of roofing sheets instantly to support the new setup site structure.
However, the head of the project, Pastor Badu Ankapong pleads to all farmers at the area to bring their cassava for processing. He also appeals to government through the office of the district assembly to provide all requisite support to help sustain the initiative.