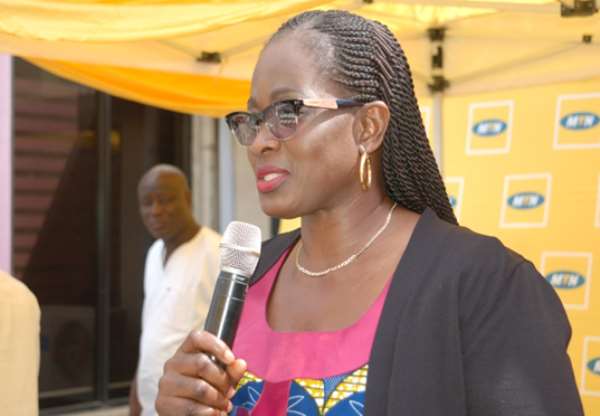 Mrs. Cynthia Lumor, Corporate Services Executive, MTN
MTN Ghana, in collaboration with Integrat, a leading mobile aggregator in Africa has launched a Mobile Advertising platform that will enable advertisers to reach their potential target via a mobile device and also increase their audiences.

The MTN Mobile Advertiser,which is an innovative advertising channel,will give advertisers, marketers the opportunity to reach more potential clients and also increase their exposure in the fastest growing economies in the world.
Speaking at the launch in Accra, Mrs. Cynthia Lumor, Corporate Services Executive, MTN, said the MTN Mobile Advertiser is a platform that is designed to boost businesses in the country by helping advertisers to reach more audiences through their mobile phones.
She said with MTN's Mobile Advertiser Service, consumers will receive information on options for goods and services in an efficient manner and suppliers can have the pick of avenues to reach their preferred audience inn a cost effective manner.
She averred that with the service messages can be targeted at a specific segments based on age, gender, interest or demographic considerations at a specific price that cheaper than traditional advertising.
Mrs. Cynthia Lumor indicated that MTN Mobile Advertiser Service is not to collapse the traditional advertising industry but to compliment it.
Afolabi Albert, country Manager of Integrat, Nigeria said the platform is open to every business and individuals who want to advertise their products to a wider market.
He added that adverts will be based on age, locations, sex will be available for businesses that want to target a particular group of people.