Bukom Banku uses son to provoke street fight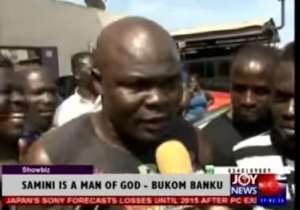 Braimah Kamoko, aka Bukom Banku, is in the news again for allegedly beating a foot­baller to pulp.
The Police at Jamestown in Accra are currently investigating cir­cumstances under which the boxer assaulted 28- year-old Richmond Armah, popularly called Poolele resulting in injuries on his face.
Jamestown Police Dis­trict Crime Officer, DSP John Anane confirmed receipt of a complaint on the matter.
On Friday, October 31, the Richmond Armah was said to have had an alterca­tion with Banku's son, whose name was given as Amadu believed to be aged 14.
The incident occurred near the famous Bukom Square Park where Amadu was said to be bathing. It all started after Rich­mond called a lady passing by but she refused to approach him.
Richmond said he asked one Naa to call the lady for him since she was likely to heed her call. Even though the said Naa succeeded in calling the lady, Banku's son reportedly convinced the lady to depart.
Naa subsequently told Richmond about the con­duct of the youngster. Unhappy about what Bukom Banku's son had done, Richmond warned Amadu not to bank his hopes on the fact that his father would jump to his defense and that next time he would not forgive him.
Banku reportedly got to the place in his car and the son reported the matter to him. Richmond said Banku asked the Amadu to open­ly fight him.
According to Rich­mond, Banku slapped his son and asked him to do same to Richmond in an attempt to provoke him.
The youngster slapped Richmond several times in the presence of several wit­nesses, who were astound­ed.
Richmond said he allowed the youngster to continuously slap him because he realized Bukom Banku wanted an opportu­nity to beat him.
At a point, Richmond said he could not take it any longer so decided to clean himself and leave the scene.
He said Bukom Banku put his finger in his right eye and scratched his face with his car keys, adding that blood oozed from his face.
He said he lodged an official complainant with the Jamestown police after visiting the hospital for treatment.
Banku was arrested on Tuesday evening after hon­ouring a police invitation. He later gave a state­ment to the police and was granted bail.
Information has it that the controversial boxer has contacted some influential politicians to help him avoid trial.