Workers vow not to compromise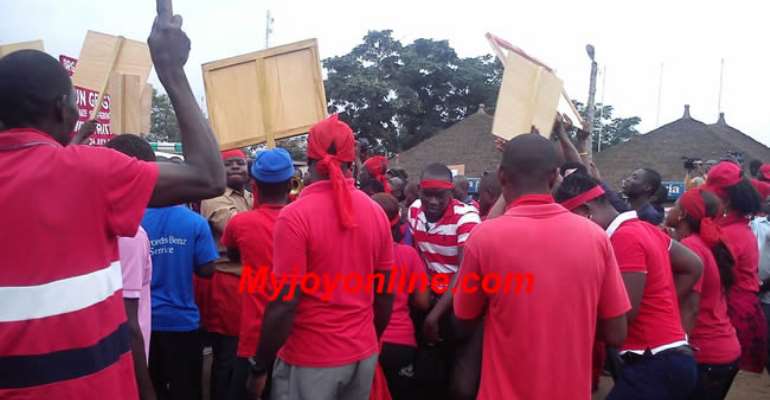 Public sector workers have flatly rejected calls to agree on a compromised position with government with regards to their tier 2 pension scheme.
They have refused to work with a government appointed fund manager, Alliance Trust; demanding that they be allowed to appoint their own fund manager, claiming that is what the law stipulates. The government is currently in court to seek interpretation as to who has the right to appoint a fund manager.
Meanwhile, the workers have called off a two-week-old strike on Tuesday having been served with an ex-parte order secured by the government on Friday. The workers however said their suspension would only last for one week if government fails to meet their demands.
"Workers' schemes licensed by the National Pensions Regulatory Authority should be allowed to operate", Executive Secretary of CLOGSAG, Isaac Bampoe Addo, a leader of the strike, demanded on Joy FM's Top Story Tuesday.
A labour consultant, Danso Acheampong has appealed to government to take the suspension of the strike in good faith and find a lasting solution to the problem.
He also noted that the workers should have been consulted in selecting a fund manager.
But observing the seemingly entrenched positions taken by both parties, Mr. Acheampong advised government to select persons who understand industrial relations to negotiate with the workers towards a compromised position.
But this has vehemently been overruled by the workers.
"We won't compromise, we will go according to what the law is saying. Period!" Mr. Bampoe Addo emphasized with a determined tone.
He had earlier explained that the workers' one-week ultimatum after calling off the strike was premised on the fact that they "don't trust" the government.
He said government has for a long period failed to meet its side of the bargain. He referred to last Thursday's meeting between labour and government during which both sides were asked by the referee, National Labour Commission, to submit a proposal going forward, but government has failed to do so; the unions have on their part presented a documented proposal, he claimed.
"So what do we negotiate on?" he rhetorically asked.
The unions, he intimated, are bent on appointing their own fund manager, just like other public sector unions like the Bank of Ghana and UTAG. The refusal of government to grant their request is discriminatory, he asserted. Story by Ghana | Myjoyonline.com| Isaac Essel | [email protected] | twitter @isaacessel